Maybelline Offering Only Lightest Shades of New Foundation to British Women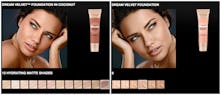 Women in the United Kingdom are up in arms over Maybelline's Dream Velvet foundation — specifically, over the limited number of shades of Dream Velvet that women of color have to pick from. 
Read more: This Model Just Called Out What It's Like to Be a Woman of Color in the Makeup Chair
In the United States, Dream Velvet is offered in 12 shades, varying from "warm porcelain" to "coconut," but in the United Kingdom, there are just six, ranging from "ivory" to "sun beige." And only one of those six appears to work for some women of color.
The difference is also seen in the advertisements. In America, Jourdan Dunn and Adriana Lima model the line's darker shades, while in the U.K., only Lima is shown online and in television advertisements. 
This is the U.S. Maybelline commercial: 
And this is the U.K. commercial, which features just Lima: 
For some, this is yet another instance of makeup companies all but denying women of color equal treatment. The difference in shades offered by Maybelline U.K. was first pointed out by British photographer Nadia Gray, who tweeted about the lack of darker shades in the line earlier this February. 
The next day, she took to her blog to air her frustrations when it comes to makeup companies not stocking a wider range of shades for women of color. In a post titled, "Why is Maybelline ignoring women of color?" she writes. "This is an issue that plagues any woman who is not white. Getting anything to suit your skin tone from global beauty brands is almost impossible."
"I, like, so many other black women have to buy high-end foundations and concealer because billion-dollar beauty corporations simply don't cater for us," she continued. "They always make the same excuses saying there is no market for the product which is just not true."
Gray is right, with black women spending an estimated $7.5 billion on beauty products a year, one report showed, with overall spending power reportedly reaching $1.3 trillion by 2017. There are many brands, like Iman Cosmetics and L'Oreal, that have profited hugely from both catering directly to women of color or expanding their options. But "diversity" efforts by beauty brands are often limited to overtures in advertising rather than real options; tellingly, Maybelline recently hired Herieth Paul, a model of color, for ads.
"Maybelline has taken a black British woman and used her in their adverts to sell products but Jourdan couldn't walk into boots or super drug and buy the same product she is advertising," Gray noted in her blog post.
Gray is just the latest voice to call out the hypocrisy; models have also been speaking up, calling out makeup artists who come to sets or runway shows unprepared to work on dark black skin. Most recently, model Leomie Anderson took to Twitter to voice her concerns after having yet another encounter with a makeup artist who only supplied her with light foundation shades.
"Why is it that the black makeup artists are busy with blonde white girls and slaying their makeup and I have to supply my own foundation," she tweeted. And later: "Why is there only ever one black hairdresser backstage yet they need four hairdressers to inspect my weave?" 
And if a top model who's walked for Victoria's Secret is still facing this issue, then you know countless other "real" (aka non-professional models) women who go to drugstores and stores like ULTA are feeling the effects. 
According to a statement to BuzzFeed, Maybelline will be releasing the shade Dunn wears in its advertisements in the next few months. Mic has reached out to Maybelline U.K. for comment.
"In the case of Dream Velvet Soft Matte foundation, we currently offer and advertise six shades of the product but we are looking forward to introducing an additional shade — Jourdan's shade — into U.K. stores within the next few months," the statement read.
Gray told BuzzFeed, "If we hadn't brought this to their attention, they would not have released it or realized there was something wrong here, and that is where the problem lies... Women of all shades and color are simply ignored; we are an afterthought."
h/t BuzzFeed