Taylor Swift's Music Won Her Album of the Year – Here Are the People Behind '1989'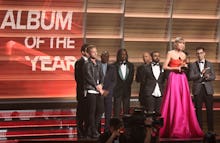 Matt Sayles/AP
At this year's Grammys, Taylor Swift made history by becoming the first female solo artist to win the album of the year award twice – first for Fearless in 2009, and, this year, for 1989. Her fifth studio album, 1989 was Swift's attempt to create a cohesive pop album with a throwback sound, according to Radio.com.  
Swift's dedicated her acceptance speech for the award to "the young women out there." While many loved her stance on female empowerment and sisterhood, some noticed that the collaborators on stage behind both her and her winning album were all male — past Grammy winner Imogen Heap was the only other female on the album. 
Read more: We Have Finally Reached Peak Taylor Swift
Though she was unable to make it to the Grammys, Heap helped co-write the album's closing ballad, "Clean," according to Billboard. In a blog post in October 2014, Heap wrote positively about the experience: "I've also been reading the odd report or tweet here and there that the reason the lyrics to 'Clean' are so good is because I wrote the song with her but for sure they are all hers she deserves all the credit!"
Legendary producer Max Martin had a heavy a hand in 1989, including hits "Shake It Off" and "Bad Blood," which won the Grammy for best video of the year, Billboard reported. Shellback frequently helped Martin. The two are credited on most tracks of the album.
Martin is the mind behind smash hits such as Britney Spears' "...Baby One More Time" and Katy Perry's "I Kissed a Girl." He's third in Hot 100's history for the most No. 1 hits, following legendary musicians Paul McCartney and John Lennon. 
Taylor returned to her country roots with the help of country producer Nathan Chapman, who produced "This Love," according to the New York Times.
Swift also worked with male musicians to put together 1989.  "Welcome to New York," the third single off of 1989, was written in collaboration with Grammy winner and One Republic frontman Ryan Tedder, the Wall Street Journal reported. Bleachers frontman Jack Antonoff also teamed up with Swift to write "Out of the Woods" and "You Are In Love," Buzzfeed reported. The two worked together previously on 2013's "Sweeter Than Fiction."
Grammy-nominated composer Ali Payami co-wrote Swift's song "Style" with Martin, Billboard reported. Payami and Martin also collaborated with Ariana Grande and The Weeknd's single "Love Me Harder."
Despite Swift's dominance in pop, there is still widespread sexism in the music industry, where only 25.8% of 2015's Top 40 songs were sung by women, and only one Top 40 song in all of 2015 was written by only women.