These Hannibal Lecter Masks are Proof of How Crazy Fashion Week Really is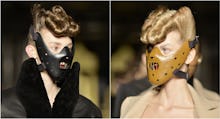 It's no surprise that Fashion Week has its fair share of WTF looks on display. We saw it last season, when Rick Owens introduced the "human backpack," and just weeks ago when gender-neutral brand Avoc sent a model down the runway wearing a Donald Trump mask. The runway is, if nothing else, a chance to make a statement — and if you're British designer Gareth Pugh, make it a bizarre one.
Read more: Lady Gaga Tears Up the Runway with Surprise Marc Jacobs Runway Appearance
Clearly still upset that NBC's Hannibal didn't get picked up for a fourth season, Pugh sent his models down the runway fashioned in Hannibal Lecter-esque masks.
Of course, this being Fashion Week, their makeup was not at all compromised, with their lips still painted behind the restrictive bars obstructing their mouths.
Describing the inspiration behind the collection, Pugh said, according to Yahoo, that it explores what he describes as "the visual codes of raw female ambition" — which apparently means cannibalistic serial killers and growls of "I'm a man-eating machine" being heard during the show.
Pugh posted the below clip from Silence of the Lambs on his official Instagram account, confirming the source material for his bizarre display.
While we appreciate the throwback to one of the most feared movie villains of all time, we think we'll keep our mask-wearing to the facial cleansing variety. While Fashion Week is a fanciful display of the most outlandish wardrobe possibilities, these looks serve as a reminder that it hardly reflects real life. (No offense, Mr. Pugh.)