This Trans Beauty Queen Lost Her Title for Wearing Boxer Briefs, Not Being Trans Enough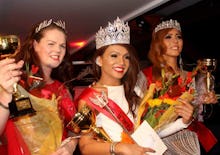 Heavy is the head that wears the crown, especially when people want to take it away. 
Jai Dará Latto, the winner of the Miss Transgender UK pageant, lost her crown earlier this month when the pageant's organizer saw footage of Latto in an upcoming BBC documentary wearing boxer briefs while lounging around the house and wearing a T-shirt and shorts to the gym. 
Read more: There's a Reason This Trans Man and Former Beauty Queen Wants to Show You His Scars
The organizer, Rachael Bailey, stripped Latto of her title, claiming she's not a "full-time woman," according to Scotland's newspaper the Scotsman. 
"When Jai entered the competition, she said she was full time and she is not — she is a drag queen," Bailey told the Scotsman. "Underwear is very important to transgender females — one of the first thing people do is change their underwear as it makes us feel like we are finally a woman."
When Latto won the competition, she also won the controversial prize of £10,000 for gender reassignment surgery in India. However, Latto turned it down, stating she wishes to have the surgery in Scotland, where she lives. The rest of the prizes — £5,000 in cash and a £3,000 modeling contract, have been awarded to the runner-up. 
"I am transgender," Latto told the Scotsman. "I gave consideration to sharing a letter from my doctor on my gender dysphoria but decided against it."
Gender dysphoria is the medical diagnosis many trans people receive when they begin their transition. It means that there is a discrepancy between one's emotional and psychological sex and one's assigned sex at birth. 
Latto has cut all ties with the pageant, which she said forces women into a feminine "stereotype" — long hair, feminine clothes and the appropriate underwear. 
However, everyone's transition is different. In an interview with Cosmopolitan, one transgender woman said of the transition process, "It's not a single process, it's 1,095 days of little decisions that you have to take on individually until you're happy."
"The documentary clearly shows me living full time in my community functioning on a daily basis interacting with family, friends and others in my desired gender role," Latto said. "Being transgender is not some exclusive club. There are many of us in it and we are all different from one another."
Latto plans to hike 30 miles in high heels through Scotland in April to raise awareness for the issues those awaiting gender transition face. She's also responded to the controversy on her Facebook with a picture of her in boxers holding a sign with the hashtag "#WearingNotCaring."