This Yelp Employee's Open Letter to the CEO Has Sparked an Important Conversation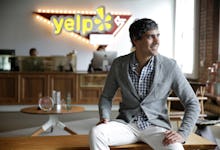 Yelp, the San Francisco-based restaurant and business-rating website, fired an employee for complaining about its low wages — and its response to the ensuing criticism is making the controversy worse.
In a post Friday on Medium titled "An Open Letter to My CEO," Talia Jane, an employee of Yelp and subsidiary Eat24's customer service department, wrote that her $8.15 after-tax hourly pay rate was so low for the expensive Bay Area that 80% of her income went toward her $1,245 rent. She said spending 80% of her income on rent left little to none for necessities like food, leaving her in constant hunger.
Read more: 11 Brutally Honest Reasons Why Millennials Don't Want Kids
"So here I am, 25 years old, balancing all sorts of debt and trying to pave a life for myself that doesn't involve crying in the bathtub every week," Jane wrote. "Every single one of my co-workers is struggling. They're taking side jobs, they're living at home. One of them started a GoFundMe because she couldn't pay her rent."
For many struggling to get by in the Bay Area, Jane's post hit home, and her name rose in the regional trending ranks on Twitter, according to Business Insider.
The post challenged Yelp CEO Jeremy Stoppelman to find other ways of feeding or paying his employees, such as partnering with local food banks or allowing customers to donate to their needs on checkout. Hours later, Jane updated her post to announce she was fired, sparking a minor firestorm about Yelp's employment practices.
In a statement provided to Business Insider, Yelp declined to comment on the specifics of Jane's firing but described her letter as a "real, personal narrative" and "an important example of freedom of speech" — a mixed message considering its actions.
We do not comment on personnel issues. However, we did agree with many of the points in Ms. Jane's post and we viewed it as her real, personal narrative about what it's like to live in the Bay Area. Most importantly, it's an important example of freedom of speech.
We agree with her comments about the high costs of living in San Francisco, which is why we announced in December that we are expanding our Eat24 customer support team into our Phoenix office where will pay the same wage.
On Twitter, Stoppelman asked the "Twitter army [to] please put down the pitchforks" and denied Jane was let go because of the open letter. He also said the concerns raised in it were valid — but rather than agree Yelp's customer service representatives should earn more money, said it was looking into hiring staff in a more affordable city.
Jane was not satisfied by the response. She countered by saying managers were explicit that the letter was the reason for her termination.
During a call with Yelp, a human resources representative asked Jane what she expected to get out of the open letter. 
"I thought maybe five people would read it and that'd be it," Jane told Mic via Twitter DMs. "He told me that it was in violation of Yelp's code of conduct and for that reason, they felt it would be best if they separated from me."
Just as disappointing as the misrepresentation of her firing, she said, was Yelp's refusal to address her concerns in any meaningful way.
"Mentioning the new location in Arizona is just smoke and mirrors PR pivoting," she said. "Trying to say they'll have some employees (in a different state with a significantly more affordable cost of living) who can afford the current pay rate doesn't actually address the issue at hand or do anything for all the employees stuck in the Bay Area who can't afford that same pay rate."
"I figure I would be able to sustain comfortably and maybe even save a little with twice the pay — $24 per hour," Jane wrote. "That's about $19.20 after taxes, in case you're curious."
Still, according to Curbed, twice her salary still would not have been enough. Curbed estimates that throughout the Bay Area, the cheapest median market-rate rent  would require a single earner to make at least $36.28 an hour. Minimum wage in the city is $12.45.
Yelp has come under fire for its business practices before. A forthcoming documentary Billion Dollar Bully argues Yelp's filtered review service essentially acts as a protection racket for businesses that feel obligated to sign up in exchange for better ratings.
Perhaps it's time the company do a self-review.