Hasaan Hawthorne Had His Legs Amputated — And Just Won Alabama's State Wrestling Title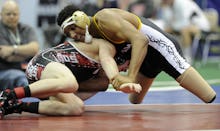 Great things happen where you least expect them, including at high school wrestling tournaments in Alabama.
The Yellowhammer State crowned a new boys' high school wrestling champion on Saturday, and his name is Hasaan Hawthorne. 
Read more: This Pageant for Women With Disabilities Is Redefining Beauty
Hawthorne was born without tibiae — the bones that connect your knees to your ankles — and had his lower legs amputated when he was a child, AL.com reported.
The Pelham High School senior now walks using prosthetics, which he removes when he competes in wrestling matches.
But that didn't stop him from bulldozing his way to a 37-0 record in the 2015-16 season, and a decisive victory over Southside High's Landon Thompson in Huntsville this weekend.
The win netted him the 145-lb. weight class wrestling championship title for the state of Alabama — a remarkable achievement, especially considering he was competing against opponents without disabilities.
Hawthorne's victory is a reminder that physical disabilities don't always have to be barriers to athletic dominance.
The high school senior has been an athlete his entire life: According to a profile published at AL.com on Wednesday, Hawthorne started playing baseball at age five, and has competed in swimming and track against other athletes with physical disabilities.
He even played tackle football against players without disabilities. But when he was introduced to wrestling in middle school, he fell in love with the sport immediately.
Hawthorne told AL.com that he had been inspired by Anthony Robles, who won the 2010-11 NCAA wrestling championship for Arizona State University in the 125-lb. weight division — despite being a walk-on, and despite being born with only one leg.
Now, Hawthorne provides motivation for other athletes — those with and without disabilities — around the world.
So what's next for the Pelham senior's wrestling career? He hopes to take his talents to the national level, and to eventually compete in college.
In the meantime, he's just enjoying his victory. It's a well deserved one, and an inspiration for competitors everywhere.
h/t AL.com