Drake's Net Worth Might Not Be as High as You Think — Here's What The "6 God" Made in 2015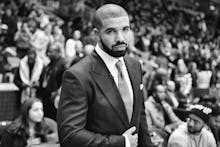 Ryan Emberley/AP
Aubrey Drake Graham, better known by fans as Drake, made a vow to himself as a rising star in the rap industry. At 25 years old, the "6 God" artist released a critical hit entitled "The Motto" with the following lyrics: "How you feel, how you feel? 25 sitting on $25 mill." The Canadian hitmaker was hoping to be stacked with a net worth equivalent to his age by the time he reached his mid-twenties — an amount the rapper has since far surpassed. 
Drake is continuing to crack his bank account's glass ceiling at 29-years-old, earning well over his $25 million goal in 2015 alone. Following a year of headlining festivals, a commercially successful album titled If You're Reading This It's Too Late in February and picking up new brand endorsements by the likes of Nike and Sprite, Drake earned a cool $39.5 million in 2015, Forbes reported. 
Read more: The Signficance of Drake and Kendrick Lamar's "Cold War," and Why It's Great for Hip-Hop
But according to most reports, Drake's net worth is more than double that. 
Though Drake's net worth is somewhat elusive, with less credible sites pointing the rapper's net worth near the $100 million mark, most outlets report the Canadian rapper's total estimated net worth to be near $88 million, according to MoneyNation. The publication notes Drake earns most of his career income through performing, with concerts and touring providing (by far) the largest bulk of his estimated income. Endorsements play another key factor in fattening the rapper's wallets as well, with an estimated total of $30 million in brand contracts and deals. 
The rapper is continuing to expand his career endeavors, preparing to release his highly anticipated album Views From The 6, as well as potentially securing a major new deal with Apple Music. Drake also officially joined Forbes' list of highest earning celebrities in 2015, ranking at 54 for the year. Drake's pockets don't stack up anywhere near those of some other household names, however.
According to MoneyNation, Drake's net worth pales in comparison to his alleged on-and-off fling Rihanna, who reportedly maintains a net worth of $282 million. His total net worth is three times smaller than Taylor Swift's, 3.2 times smaller than RiRi's and over four times smaller than that of Beyoncé's. 
That isn't to say Drake won't eventually surpass those top-earning musicians. In one year, the artist successfully managed to nearly double his total wealth, earning more than Dr. Dre's $33 million in 2015, according to Spin. With another expectedly explosive year ahead of him, there's really no telling how far Drake might be able to go in 2016.