Razzie Awards 2016: A Full List of Movies and Actors Shamefully Nominated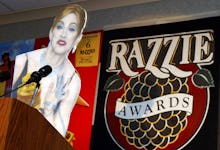 RENE MACURA/AP
The Oscars aren't the only upcoming award show scheduled to hand out trophies; the Razzie Awards, which celebrate the previous year's worst films and actors, are scheduled to hand out their golden raspberry of dishonor on Feb. 27 – the night before the 88th Academy Awards.
Currently in its 36th year, the Razzies were created in 1980 by John Wilson, author of The Official Razzie Movie Guide and Everything I Know I Learned At The Movies, as a way to lampoon "Tinsel Town's annual glut of self congratulatory awards." In addition to comical spoofs of categories like "worst picture" and "worst actor," the Razzies also hand out the redeemer award, given to previous Razzie winners whom have atoned since their cinematic infraction. Here is the full list of nominated films and actors.
Read more: Movies That Won Best Picture at the Oscars — But Clearly Shouldn't Have
Worst Picture
- Fantastic Four
Worst Director
- Andy Fickman, Paul Blart Mall Cop 2
Worst Actor
- Johnny Depp, Mortdecai
Worst Actress
- Katherine Heigl, Home Sweet Hell
Worst Supporting Actor
- Chevy Chase, Hot Tub Time Machine 2 and Vacation
Worst Supporting Actress
- Kayley Cuoco-Sweeting, Alvin & The Chipmunks: Road Chip [Voice Only] and The Wedding Ringer
Worst Screenplay
- Simon Kinberg, Jeremy Slater and Josh Trank, Fantastic Four
Worst Rip-Off or Sequel
- Alvin & The Chipmunks: Road Chip
Worst Screen Combo
- All four "Fantastics," Fantastic Four
- Elizabeth Banks, for directing Pitch Perfect 2 after the Razzie-winning Movie 47
Correction: Feb. 22, 2016
An earlier version of this article misidentified the creator of the Razzie Awards. He is John Wilson, not John Williams.