'Last Week Tonight With John Oliver' Gets Real About #OscarsSoWhite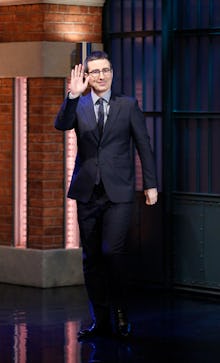 With the 88th Academy Awards approaching, Last Week Tonight With John Oliver took aim at the well-worn ground of Hollywood's diversity problem. For the second year in a row, the academy nominated zero black actors, again prompting the social media takeover of the hashtag #OscarsSoWhite.
The "How Is This Still a Thing" segment made the trenchant observation that the Oscar nominees were "whiter than a Yeti in a snowstorm — fighting Tilda Swinton."
Read more: Jessica Williams on the "Vagina Vote" Isn't Just Funny — It's Totally on Point
Aka this:
While academy-defenders have cited a dearth of minorities in starring and supporting roles, Oliver pointed out that, in fact, there have been plenty of major roles calling for minority actors. 
Indeed, the segment accused a number of recent films of blatant whitewashing from 2010's Prince of Persia: The Sands of Time (with Jake Gyllenhaal in the title role) to 2015's Aloha (Emma Stone as a one-quarter Chinese, one-quarter Hawaiian woman) to the upcoming Gods of Egypt (an overwhelmingly white cast representing Egyptian mythology's key players).
"Apparently," said the segment narrator, "'aloha' means 'hello', 'goodbye' and 'You've got to be fucking kidding me.'"
The film industry's relationship with whitewashing is a storied one, dating back to the Golden Age of Hollywood. There was, the show cites, Yul Brynner's performance as the king of Siam in The King and I (side note: the Russian-born Brynner also played Rameses in The Ten Commandments), Natalie Wood as a Puerto Rican Maria in West Side Story and, of course, John Wayne as Mongolian warlord Genghis Khan — that's right, John Wayne as Genghis Khan — in The Conqueror.  
Exodus: Gods and Kings director Ridley Scott laid it out in blunt terms during a 2014 interview with Variety: 
"I can't mount a film of this budget ... and say that my lead actor is Mohammad so-and-so from such-and-such. I'm just not going to get it financed. So the question doesn't even come up."
In other words, #OscarsIndefinitelySoWhite.
Watch the full segment here: