10 Netflix Movies to Watch While Stoned — From the Classics to the Psychedelic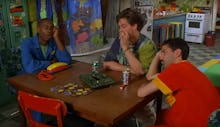 Mic/YouTube
Perhaps you accidentally took one too many puffs before passing it to your left. Or maybe you're still feeling the lingering effects of taking too big of a puff. It happens. Luckily, Netflix is always there to help you come down from your high, and all you need to do is sit there and stare at the screen.
Unfortunately, many classic stoner films have disappeared from Netflix's catalog due to expired licenses, or they were only ever available on DVD – also known as a major buzzkill. Here are ten movies streaming on Netflix – five stoner classics still available on demand and five films not necessarily weed-related but will help you make the best of your buzz.
Read more: How to Access the 6 Best Hidden Genres on Netflix
1. Cheech and Chong's Up In Smoke
Because Anthony "Cheech" Marin and Tommy Chong are the forefathers of stoner comedies.
2. Wayne's World
Slacker movie is probably a more accurate categorization for this film, but that hasn't stopped potheads from screaming "Excellent!" and singing "Bohemian Rhapsody."
3. Half-Baked
If only to see a pre-Chappelle Show Dave Chappelle, and pre-Scandal Guillermo Diaz.
4. Don't Be a Menace to South Central While Drinking Your Juice in The Hood
Fun game for you and/or your group: try to recite the film's complete title while rubbing your stomach and patting your head.
5. Dude, Where's My Car?
A parable of the regret you'll have after sobering up.
6. Sin City
For the pothead who is sensitive to light, but probably not one that is squeamish.
7. Team America: World Police
Be sure to continue watching the film after you pause and spend half an hour reenacting "the signal."
8. Inglourious Basterds
After you're done screaming "nein, nein, nein," enjoy watching Christoph Waltz steal every scene he's in.
9. Not Another Teen Movie
Just to see Janie's painting, or her character getting serenaded.
10. Enter the Void
Since you're probably already having an out-of-body experience, you might as well look at all the pretty lights.