Charlie Sheen's Disclosure Has Done More for HIV Awareness Than Anyone Realizes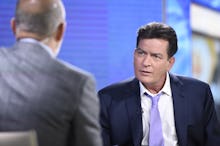 It used to be city buses, subway campaigns, ACT UP posters, public service announcements and "very special episodes" of your favorite TV shows. But there's no doubt now that Google is a big player in making sure information about HIV is spread to as many people as possible.
And no one has brought more people to the search engine for HIV info than Hollywood bad boy and HIV-positive Charlie Sheen, when he disclosed his HIV-positive status to the Today Show's Matt Lauer on Nov. 17.
What came next for Sheen was a media firestorm, but what followed for most Americans was a trip to the keyboard to google "HIV." According to a brand new study published Monday in the Journal of the American Medical Association Internal Medicine, Sheen's announcement prompted the largest number of Google searches for HIV-related issues ever recorded: about 2.75 million more than on any other given day. About 1.25 million of those searches included words like "condoms," "HIV testing" or "HIV symptoms." Altogether, HIV-related searches went up 417% on the day of his disclosure. 
Sheen, perhaps the most public face for the AIDS epidemic since Rock Hudson or Magic Johnson, prompted searches for more than one day, as well. Twenty-four hours after his disclosure, searches related to condoms were still 72% higher than usual, and searches for HIV testing stayed high for the following 72 hours, according to the study.
Sheen and Google are performing a duty that much of America is not: sex education. According to the Guttmacher Institute, only 33 states in the U.S. mandate HIV education. However, only 27 states have general requirements for this education and of those, only 13 require the information to be medically accurate. 
What's worse: Parents can opt to take their children out of sex education altogether, and there are specific HIV education opt-outs in three states — Arizona, North Carolina and Pennsylvania. 
For now, it seems, all we really have is the internet, which people continue to use as their primary health educator. According to JD Davids, managing editor at TheBody.com, a website dedicated to HIV education and news, the day of Sheen's announcement was the highest-traffic day for the website in 2015 — even more than World AIDS Day. Davids said that all types of content — not just content related to Sheen — received a huge boost in traffic that day. 
"These results are not surprising but are deeply encouraging," he told Mic. "TheBody.com was founded over 25 years ago, and the day of Sheen's disclosure was the the biggest abrupt HIV event in our existence."
However, Davids said, a lot of the search terms in the study did not reflect what he called the "new basics of HIV." 
"It's sad that this analysis overlooks some of the most vital and salient concepts in HIV today by not including terms like 'undetectable' and 'PrEP,'" Davids said. "Basically the analysis only asked about the same terms we would have asked about at the time of Magic [Johnson]'s disclosure!" 
PrEP is a daily pill that HIV-negative people take to stay HIV negative. HIV-positive people who take their meds become "undetectable" when the amount of virus in their blood is so minuscule that they do not transmit HIV.