This Is What Happens When a University Mistakes a Cosmetic Face Mask for Blackface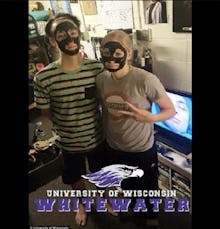 On Thursday morning, chancellor Beverly Kopper of the University of Wisconsin-Whitewater sent out a public message condemning two students for posting a picture of themselves on Snapchat wearing blackface. Thing is, the students were simply sharing their skincare ritual, which included a dark-colored face mask. 
Oops. 
Read more: Brown University Voted to Replace Columbus Day With Indigenous People's Day
Kopper's misinterpretation was amplified by the passion of her condemnation:
"Last night a disturbing racist post that was made to social media was brought to my attention. This post was hurtful and destructive to our campus community. While social media can certainly bring about positive change, it can also be a place that deeply hurts and harms others."
By Thursday afternoon, she had copped to her mistake.
But in a statement, Wisconsin state senator Stephen Nass chastised the chancellor for jumping to conclusions.
"The racial overreaction of chancellor Beverly Kopper and other UW-Whitewater administrators without first checking the facts of the situation is a stark example of how political correctness has warped the mindset of highly educated university administrators," Nass said, according to the Huffington Post.
"Frankly, these are the people responsible for educating our sons and daughters, but they seem incapable of applying reason or common sense," he added.
The question of where to draw the line with political correctness has become an increasingly heated one on college campuses. The balance of protecting minority groups while avoiding reflexive defensiveness is difficult to maintain, as this most recent incident has proved. And studies have shown that millennials are more likely than previous generations to sanction government restrictions on free speech in the interest of promoting equality. 
But sometimes it's facial, not racial.