Why the Olsens Didn't Do 'Fuller House' – Mary-Kate and Ashley MIA From Netflix Spinoff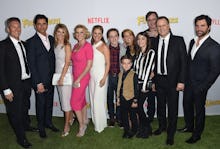 Jordan Strauss/AP
Unless you've been living under a rock, you've probably heard that the streaming movie and TV service Netflix is continuing the classic American sitcom Full House, as the spinoff Fuller House.
Fuller House will premiere 13 episodes on Feb. 26, starring the entire Full House cast, with the notable exception of Michelle, the youngest member of the Tanner family, portrayed by Mary-Kate and Ashley Olsen. Fans have been disappointed that Michelle, a staple of the sitcom, won't be returning with the rest of the cast.
Read more: 'Fuller House' Teaser Released: Info on Plot, Cast and 2016 Release Date on Netflix
"They're fully welcome anytime, I love them and there was a lot of miscommunication in the press and stuff," John Stamos, who plays uncle Jesse Katsopolis in both sitcoms, told E! Online."I talked to them, I understood why they didn't want to come back. They just have big lives, they haven't acted in a while, but I love them dearly and they're always welcome on our show."
The twins claim to have not known about the spinoff series.
"I ran into Bob [Saget] the other day and we didn't even talk about it," Ashley Olsen told Women's Wear Daily in April, regarding the long-awaited spinoff series. "I'm shocked I haven't heard from John [Stamos]," Mary-Kate followed. Looks like a miscommunication between the two parties is the reason Full House fans won't get Michelle Tanner in the reboot. 
In a press release, Netflix revealed the Fuller House launch date and its synopsis. 
In 'Fuller House,' the adventures that began in 1987 on 'Full House' continue, with veterinarian D.J. Tanner-Fuller (Candace Cameron Bure) recently widowed and living in San Francisco, D.J.'s younger sister/aspiring musician Stephanie Tanner (Jodie Sweetin) and D.J.'s lifelong best friend/fellow single mother Kimmy Gibbler (Andrea Barber), along with Kimmy's feisty teenage daughter Ramona (Soni Nicole Bringas), all move in to help take care of D.J.'s three boys — the rebellious 12-year-old Jackson (Michael Champion), neurotic 7-year-old Max (Elias Harger) and her newborn baby, Tommy Jr. (Messitt Twins).