Bryan Cranston's Oscar-Nominated 'Trumbo' Reminds Us He's One of America's Greatest Actors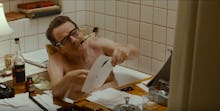 YouTube
Before it was even released, Trumbo was pegged as an Oscar-baited film. It has all the ingredients: It's a movie about the movie industry with broad appeal to Academy voters who, with a median age of 63, know what the industry was like in the 1940s and 1950s. 
Yet, the movie did not receive the accolades it might have expected considering its strength in precursor awards. It did snag one nod at the Academy Awards: a best actor nomination for Bryan Cranston as the titular Dalton Trumbo. While the film was mostly well-received by critics, they were in near-universal agreement that Cranston's portrayal of Trumbo is the film's standout element.
Read more: Why Leonardo DiCaprio Has Never Won an Oscar — and It's Not His Acting Abilities
"Cranston's performance is the motor that runs Trumbo, and that motor never idles, never flags in momentum or magnetism or idealistic scorn," Ty Burr wrote for the Boston Globe. 
Most of all, Cranston's Trumbo is a passionate reminder to the industry that the actor can fully immerse himself in a role better than the majority of his peers. After all, like Trumbo, Cranston was the most important factor among a slew of noteworthy actors, directors and cinematographers that catapulted Breaking Bad into becoming one of the best televisions shows in modern history. 
Editor's note: Spoilers ahead for all of Breaking Bad.
As Walter White, Cranston transformed a character that began as an apprehensive chemistry teacher who learns he has terminal cancer to a monstrous drug kingpin — a "Mr. Chips to Scarface" transformation, as Breaking Bad creator Vince Gilligan initially pitched to AMC. These results are from slow (but realistic) progress in the five seasons, as Walter slowly loses his sense of morality with each decision he makes. 
Among his many unforgettable moments, Cranston is best-known for his scene with Walter's wife Skyler (Anna Gunn) in season four. Amidst the impending mortal danger in his tense conflict with drug lord Gus Fring (Giancarlo Esposito), Skyler implores him to get out of the business — he does have enough money at that point to pay for his cancer treatment. Instead, the extent of his turn to the kingpin persona Heisenberg is revealed: He is "the danger." 
Cranston's five-season portrayal of Walter White was hailed by pundits, as he won four Emmys for outstanding lead actor in a drama series. It even received high praise from British actor Anthony Hopkins, who called Cranston's role as White the "best acting I have ever seen." 
"From what started as a black comedy, descended into a labyrinth of blood, destruction and hell," Hopkins wrote to Cranston, according to the Verge. "It was like a great Jacobean, Shakespearian or Greek Tragedy." 
His peers and critics have laid out similar praise for his work in Trumbo — which, like Breaking Bad, has included an incredible immersion into the character. 
"A Hollywood screenwriter goes broke fighting for his principles," Peter Travers wrote for Rolling Stone. "Sounds like a biopic slog, and sometimes it is. Luckily, Trumbo has a powerhouse Bryan Cranston to light a fire under the moldier clichés in John McNamara's script." 
"This is one of the great living American actors," Trumbo co-star Helen Mirren said in an interview with Variety. "In theater and in film, television, you think of his range. It's absolutely incredible."
While Cranston has remained relatively quiet since Breaking Bad ended in 2013 — most notably, he had a supporting role in Godzilla and voice work in Kung Fu Panda 3 — Trumbo represents what could be a new trend for the versatile actor: biopic roles. Later this year, Cranston will star as former President Lyndon B. Johnson in an HBO biopic, after playing the late commander-in-chief in a Tony-winning performance on Broadway. 
His Walter White was incredible, and there is an understandable nostalgia for his time on the iconic sitcom Malcolm in the Middle. Beyond those roles, Cranston has continued to hone his craft and cement a legacy as one of Hollywood's modern-day greats. 
"It's incredible to have shared the screen with him twice," Mirren added in her Variety interview. "I'd like to share the stage with him sometime. That would be great."