'Girls' Season 5 Premiere Reviews Prove Lena Dunham Show Is Finally Funny Again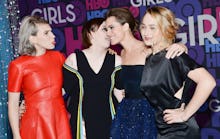 Evan Agostini/AP
Lena Dunham and company's misadventures resumed on Sunday evening with the season five premiere of Girls. The episode opens with and revolves around the typically stressed bridezilla Marnie Michaels (played by Allison Williams) and her wedding to musician Desi (played by Ebon Moss-Bachrach). 
Many had felt that the third and fourth season of Girls and its characters had become "arbitrary" and "exhausted," according to Vanity Fair. The fourth season ended with Desi's spontaneous proposal to Michaels. 
But the newest episode reintroduced each character, armed with his or her flawed, eccentric and self-centered personality audiences have grown to know. Hannah Horvath (played by Lena Dunham); free-spirited Jessa Johansson (played by Jemima Kirke); and a fresh-from-Japan Shoshanna Shapiro (played by Zosia Mamet) are there as her trusty bridesmaids. Horvath's new boyfriend Fran Parker (played by Jake Lacy) has to meet her ex-boyfriend Adam Sackler (played by Adam Driver). Also making a comeback are show regulars Ray Ploshansky, who still has feelings for Michaels, (played by Alex Karpovsky) and Elijah Krantz (played by Andrew Rannells). 
Read more: Lena Dunham Is Taking Time Off to Attend to Her Health, Shining Light on a Wider Problem
In true Girls fashion, the wedding stumbled, and included awkward encounters, cringeworthy drama and dysfunctional relationships. To critics, the wedding symbolized the change and potential growing-up that the girls have been struggling with for the show's entirety, as frequently voiced by Horvath throughout the episode. "It's like a really bad rom-com that's really obvious and not funny," she said in the episode. To fans, it meant the morally ambiguous characters were back for more questionable choices. 
The Atlantic called the season premiere "sharp," adding that "no one is as effortlessly deranged as these characters." The desperate wedding plot was best at expressing that.
Horvath's character was described as having finally matured by Slate, which also claimed that Girls has now "lost its edge," despite still being "funny and enjoyable." In 2012, it was a pop culture blast, covering the young millennial in Brooklyn lifestyle, according to Slate. But it's toned down, five seasons later. 
Time agreed, and wrote that this would be the time for the show to introduce new characters (as the only newish one is Parker). "In season five of Girls, we're just watching pinballs collide in new combinations," Daniel D'Addario wrote for Time. "What does it teach us about Hannah, or millennials, or a creative life in New York? More than that, who cares?"
The premiere proved successful to fans, who went to Twitter to say that they're ready for the next episode, calling it "solid" and "tremendous."