Saul Williams' Music Video For "The Noise Came From Here" Is a Raw Walk Through Ferguson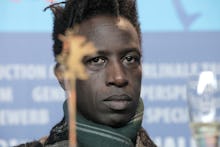 Gero Breloer/AP
Slam poetry legend and hip-hop hit maker Saul Williams just released a video for "The Noise Came From Here," and the visual accompaniment gives the cut a razor-sharp political edge. In the video, a barefoot Williams takes viewers through Ferguson, Missouri, where Michael Brown was shot by police in 2014, sparking widespread riots, rallies and a national dialogue on the state of race relations in America. The video is an ambling tour of semi-deserted neighborhoods, strip malls and a nail salon. Two powerful spoken word segments bookend the footage. "The Noise Came From Here" lives on Williams' fifth album, Martyr Loser King, which was released on Jan. 29. 
Read more: Saul Williams Talks His New Album and America's Obsession With "Dumbing Down" Art
Williams sings, "We won't be silenced, no/ The noise came from here/ A never ending war will not be waged, from here/ The future is my home it all came, from here/ Police and sirens, guns are on parade right here/ You never touch my love."
The lyrics continue: "Your sirens and your guns, you know we paid for it all/ Your scripture severing tongues, you know we paid for it all/ With oil and our blood, you know we paid for it all/ We won't be silenced, no, because we paid for it all."
The opening footage of Williams' most recent release captures scenes of what appears to be Paris. Though not altogether evident to those unfamiliar with the premise of Martyr Loser King, the themes of technology, terrorism, democracy and justice all permeate the artist's latest studio album. 
In an interview with Mic, Williams explained that with Martyr Loser King, he aimed to create a modern folk legend along the lines of Guy Fawkes — which led to the creation of a fictional hacker from Burundi named Martyr Loser King, who is eventually labeled a terrorist. According to the artist, guarding an international mindset is crucial to understanding the larger scope of music's evolving trajectory. 
"We have some folk legends living in real time, like Chelsea Manning, for example," Williams told Mic. "We should be outside of that fucking prison, like trying to break it down, but people feel disempowered. Some people are working towards it, and some people are just watching from the sidelines."
"This story is a means of me parlaying certain ideas. And the music is a response to what I love in music. It comes from having traveled and enjoyed much more than just the anglophone radio that comes through the top 40, while also realizing the evolution of music — which is something I don't fight against."
While his music has evolved, the "The Noise Came from Here" and Martyr Loser King, as a whole, show that Saul Williams continues to bravely tackle some of the most heady issues facing the world today.
Here's the track list for Martyr Loser King: 
1. "Groundwork"  
2. "Horn of the Clock-Bike"  
3. "Ashes"  
4. "Think like They Book Say"  
5. "The Bear/Coltan as Cotton"  
6. "Burundi" (featuring Emily Kokal)
7. "The Noise Came from Here"  
8. "Down for Some Ignorance"  
9. "Roach Eggs"  
10. "All Coltrane Solos at Once" 
11. "No Different"  
12. "Homes/Drones/Poems/Drums"