What Is Nicki Minaj's Real Name? Here's How 9 Rappers Came up With Their Stage Names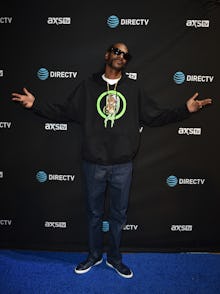 Jordan Strauss/AP
Nicki Minaj, born Onika Tanya Maraj, took the rap game by storm before she even dropped her 2010 début album, Pink Friday. Before the success of Pink Friday, the 33-year-old artist was featured in several songs on Billboard's Hot 100, bringing attention to her talents. But where did her moniker, Nicki Minaj, come from? 
While the answer is still unclear, Minaj appears to hate the stage name, she told the Guardian in 2012. "Somebody changed my name," she said. "One of the first production deals I signed, the guy wanted my name to be Minaj and I fought him tooth and nail. But he convinced me. I've always hated it."
Minaj, whose friend's called her Nicki or Cooky, "feels it's like one big theatre piece," she told the Guardian when asked about her character. "It's a show." Minaj said she does not prefer her close friends or family members to call her by the pseudonym. 
Here's how eight other rappers came up with their unique stage names: 
Snoop Dogg
Born Cordozar Calvin Broads, Snoop Dogg received his nickname from his mother when he was younger. According to IMDB, the rapper "got his name from his mother, who jokingly remarked that he looked like the Peanuts character Snoopy." Later in his career, he tacked "Doggy Dogg" to his name. 
T.I.
T.I., born Clifford Joseph Harris Jr., is also known as T.I.P. and "Rubberband Man." The name "T.I." is a relatively newer name, as his original stage name, T.I.P., was given to the rapper by his grandfather, who called him "Tip" during his younger years, according to IMDB. In order to avoid confusion with A Tribe Called Quest frontman Q-Tip, T.I.P became T.I. 
Wiz Khalifa 
Cameron Jibril Thomas, known by his rapper name Wiz Khalifa, has always been successful in his endeavors, and that mindset gave the rapper his stage name. 
"The story behind my name is: I would always hang out with older guys, and I was good at everything I do, so they would be like, 'He's a young wiz,' so that's where that came from," the Khalifa rapper said in an episode of MTV series When I Was 17. "And 'Khalifa' is Arabic for 'successor' and 'leader,' and my granddad is Muslim, so he gave me that name; he felt like that's what I was doing with my music."
Gucci Mane
Radric Davis, better known by his stage name Gucci Mane, wasn't inspired by the clothing line when he came up with his rap name. The name "Gucci" derives from a childhood nickname his grandmother gave his father, according to VIBE. 
"My pops name was Gucci Mane. This was a family name and it's always been in my family. I just took the name and made it my rap name, after my daddy," Gucci Mane told HipHopDx. When asked if his family wore Gucci often, Gucci said "my grandmother gave my daddy a lil' country name."
"She didn't know nothing about them clothes," Gucci said, referring to the Gucci clothing line. 
Macklemore
After a huge controversy stemming from the release of his song "White Privilege 2," Macklemore, born Ben Haggerty, came up with the name from a superhero he drew when he was a high school student. 
"That was when I was 17. I believe. I came out to Pratt Art School when I was a junior for the summer," Macklemore told Complex. "We were given an [assignment] at graphics art class at my high school in Seattle, I was given this superhero in plastic wrapping. We had to give him a name. I named him Professor Macklemore."
"When I came out to Pratt Art School for the summer, I was going to thrift shops and dressing up in random crazy outfits. Whenever I do that—and I'd go out in the town and get drunk and shit—when I would go do that, I was "Professor Macklemore," he continued. "Eventually, people just started calling me that. After I put out my first album, I was 17, I dropped the Professor and started just going by Macklemore."
Future
Future, born Nayvadius Wilburn, received his name from G-Rock, a member of the Atlanta music collective Dungeon Family. "He used to always tell me, 'You're the future. You're the future. You're young man. You got energy. You're ambitious. You're the future of the Dungeon Family," the Atlanta rapper told MTV News in 2012. "He started calling me that, and it really didn't stick then but after a while it caught on, and it made sense."
Jay Z
Jay Z, born Shawn Carter in New York City, is arguably one of the most well-known rappers of all-time. According to Biography.com, the Brooklyn rapper teamed up with an older hip-hop artist Jaz-O in 1989, who became a mentor. The duo created a track titled "The Originators." Carter began calling himself "Jay Z" in homage to his mentor, but also as a reference to his childhood name of "Jazzy." 
However, the rumor that the name is a reference to the J and Z subway lines in New York City appears to be false. A woman who knows Jay Z told the New York Daily News that the moniker comes from neighbors often remarking that the young rapper was "jazzy." "Gotta love the World Wide Web," she told NY Daily News.
2 Chainz
Tauheed Epps, who grew up in College Park, Georgia, is best known as the rapper 2 Chainz, but was also previously known as Tity Boi. "The name Tity Boi actually came from my big mama, from me being spoiled and an only child—breastfed," Epps told VIBE. My mama called me Tity Boi, my dad called me Tity Man, my hood called me Tit so when we was trying to rap I had been going by Tit my whole life."
The rapper then attributed his current rap name, 2 Chainz, to his love of jewelry. "In my 8th grade yearbook picture I had on two chains," the 38-year-old rapper told VIBE. "I had always been into like jewelry so 2 Chainz just stuck."