John Kasich Credits "Women Who Left Their Kitchens" for His Political Rise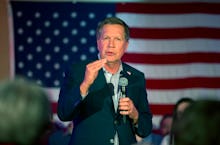 Republican presidential hopeful John Kasich raised eyebrows on Monday when he said he owed his first election victory to "women who left their kitchens" to campaign for him.
Stumping in Fairfax, Virginia, the Ohio governor recounted his 1978 bid for the Ohio legislature, saying he entered the race as a long shot but overcame the odds in part thanks to female volunteers.
"How did I get elected? I didn't have anybody for me, we just got an army of people, and many women who left their kitchens to go out and go door-to-door, and put yard signs up for me," Kasich said.
Read more:
Kasich added that gender roles were quite different at the time.
"You know, all the way back, when things were different," he went on. "Now you call homes and everybody's out working, but at that time, early days, it was an army of the women that really helped me to get elected to the state Senate and into that job."
Later, a questioner at the town hall event told Kasich, "I'll come to support you, but I won't be coming out of the kitchen."
"I gotcha," he replied.
In a statement clarifying the governor's remarks, a spokesman said that depicting Kasich's remarks as sexist amounted to nothing more than "desperate politics."
Kasich, who placed second to Donald Trump in the Feb. 9 New Hampshire primary and hopes to rack up large vote totals in moderate Midwestern and Northeastern states that vote in March, is no stranger to gender-related controversies.
Campaigning in Iowa last year, he sought to explain his support for a balanced budget amendment to a female voter by asking, "Have you ever been on a diet?" When the woman replied that she had, "many times," Kasich responded, "Well, you're the perfect example." 
That came not long after he'd told a young woman at a Virginia rally, "I'm sorry I don't have any Taylor Swift tickets."
There was also the time, during an MSNBC segment with liberal commentator Joan Walsh, that Kasich instructed her to "learn how to control yourself."
In the realm of policy, Kasich irked women's rights advocates on Sunday by signing legislation that strips funding from Planned Parenthood in Ohio.