6 Vegan Dishes Even Your Meat-Loving Friends Will Actually Enjoy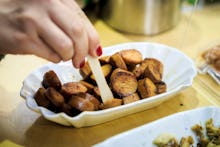 Carsten Koall/Getty Images
With its promise of vitality due to avoiding anything that comes from an animal, veganism has trickled into mainstream health culture. Just last year, the New York Times said that proponents of veganism were making an effort to make the movement "glamorous, prosperous, sexy and epidermally beaming with health." Plus, celebrities like Russell Simmons and Ellen DeGeneres endorse such vegan lifestyles.
But not everyone is up for the intimidating vow to drop steak from their diet and leather from their closet — and there has yet to be a definitive answer on veganism being better for the environment, despite some supporting evidence according to the Washington Post.
Read more: Is Kanye West Vegan? Here Are the Heavyweight Celebrities Who've Foregone Meat
But for social gatherings, pleasing everyone's palette can become tricky waters to navigate. Luckily, not all vegan recipes are salad — and there's a plethora of recipes to choose from so that it doesn't become a battle between vegetables with ranch dip and a plate of burgers. Here are some surefire dishes that'll please both meat-lovers and non-meat eaters. 
1. Vegan jackfruit pulled pork sandwiches
Get creative for your next barbecue (that doesn't even really need a grill) by seasoning the meat from the tropical jackfruit with spices like paprika, cumin and red pepper to imitate pulled pork. After cooking for about 20 minutes, just add in some barbecue sauce and vegan ranch sauce using soy milk and vegan mayonnaise. The recipe can be found here. 
2. Barbecued seitan ribs & BBQ sauce
It seems impossible for ribs to be vegan but seitan, which is a thick wheat protein, makes it a reality. Just season it up with onion powder, Chipotle powder and barbecue sauce, and like actual ribs, bake or grill. The recipe can be found here. 
3. Spaghetti & No-Meatballs
Recreate classic and hearty spaghetti and meatballs by mashing up and sauteing a combination of beans and mushrooms. Throw them in with your favorite pasta and no one would ever know that it's meat-free. Find the recipe here. 
4. Chickpea "tuna" salad sandwich
Vegan mayo, seaweed flakes and mashed chickpeas help imitate this lunch staple in a pinch. Find the recipe here. 
5. Hearts of palm lobster rolls
Chopped and sautéed hearts of palm are eerily similar to the consistency of lobster, and can be turned into the east coast summer staple with the help of some Old Bay seasoning, vegan mayonnaise and lemon wedges. Find the recipe here. 
6. Vegan BLT sandwich with maple tempeh bacon
Tempting bacon has become a large obstacle in many's battle to giving up meat. Please everyone by thinly slicing up the soy-based tempeh, and then seasoning with maple syrup, soy sauce and oil before frying and baking it to a bacon-esque consistency. Find the recipe here.