Canada's Most Notorious Serial Killer Has a New Memoir — And You Can Buy It on Amazon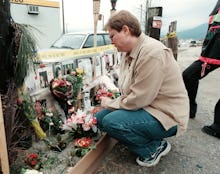 Over the course of nearly three decades, British Columbia resident Robert Pickton took the lives of as many as 49 women, silencing them forever. Now, as Pickton serves a life sentence for six counts of second-degree murder, the 66-year-old claims it's time for his voice to be heard.
The serial killer's memoir, Pickton: In His Own Words, was available on Amazon Canada for CA$20.58 (roughly $15), as of Monday afternoon. Despite the overwhelming evidence that led to Pickton's 2007 conviction — like the DNA of 33 women investigators found on his pig farm, for one — Pickton maintains his innocence in the book. 
Read more: Libraries Are Purging Borrower Data — Go Ahead and Borrow 'Fifty Shades of Grey'
The "reviews," unsurprisingly, are not good. In addition to giving the book an average of 1.5 stars, some commenters are threatening to boycott Amazon if the retailer doesn't remove the book from its site.
"There are two issues with this book, the first that a narcissistic psychopath convicted of heinous crimes would be allowed to profit from his crimes and second, that Amazon Canada would be so poorly managed to allow this criminal to publish this work," wrote one reviewer. "Any proceeds from the sale of this items should be used to create a memorial to all of the victims of this murderers escapades." 
Another agreed, writing, "It is outrageous to sell this book." Amazon, wrote the commenter, is now "on trial for accepting this hate literature."
And the others:
A Change.org petition that raced toward its 35,000-signature goal Monday urged Amazon "to consider the implications of this book's sale, to respect the families of the victims of serial killer Robert Pickton and to remove his book from Amazon.com."
The family members of Pickton's victims have also spoken out about the emotional pain In His Own Words causes them. Sandra Gagnon, whose sister Janet Henry's disappearance is widely believed linked to Pickton, told the CBC, "It really disgusts me knowing that the worst serial killer in history has the nerve to write that book and reopen wounds."
Mic reached out to Amazon, which was not immediately available for comment.
h/t Vice