5 Times Ronda Rousey Was the Feminist Hero We All Needed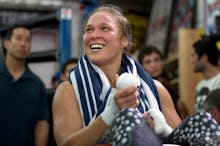 Jae C. Hong/AP
Let's be clear about one thing: Ronda Rousey is a champion. She's the former UFC's women's heavyweight champion, a Sports illustrated swimsuit cover girl and even an outspoken feminist. 
Not only is she a champion in the ring, Rousey is a feminist hero for fans, speaking candidly on her beliefs surrounding women's bodies and gender inequality, domestic violence and how you too can be the opposite of a "do-nothing bitch."
"I want my name to be mentioned along with Mike Tyson and Muhammad Ali," Rousey told Self last year when she appeared on the magazine's cover as the undefeated UFC champ. "And I don't want the word 'woman' to be in front of 'champion.'"
Read more: Ronda Rousey Reveals What It Means to Be a Champion
Below are five times Ronda Rousey said what every true feminist was thinking, in pure "Rowdy" Rousey fashion:
1) When she slammed Floyd Mayweather for his misogynistic history and domestic violence controversies. 
"I wonder how Floyd feels being beat by a woman for once," Rousey told ESPN, knocking the fellow fighter for his seven reported assaults on five women, Mic previously reported. "I'd like to see him pretend to not know who I am now."
2) When she redefined women's bodies in advertising.
When Rousey first appeared in a Carl's Jr. commercial, she was of course aware her muscular body was far different from that of her bikini model predecessors. None of that phased the champion, however. "When I was a kid, the standard that I held myself to was what I perceived the boys I liked to want. If I liked a 14-year-old boy, and he had 50 Maxim magazines, then I would assume I needed to look like the girls in those Maxim magazines if this boy is ever going to like me," Rousey told Elle. 
"When you're able to change the direction of those and kind of broaden them a little bit and not just show a small fraction of the female population, then it actually changes the standard and makes it healthier for everybody ... I feel like those ads are a real way to kind of change the perception of what is considered desirable in a woman these days."
3) When she defined what a "do-nothing bitch" actually means.
Sure, audiences might take Rousey's initial quote as fighting words when she told Embedded she's not a "do-nothing bitch."
A further look at her quote reveals the true feminism behind her bold statement: 
"Being put in the position of being a role model, I don't think I'm infallible enough for that. I have this one term for the kind of woman that my mother raised me to not be, and that's a 'do-nothing bitch', or I call it a DNB a lot of the time. Like, the type of chick that just tries to be pretty and be taken care of by somebody else ... Just because my body was developed for a purpose other than fucking millionaires, doesn't mean it's masculine. I think it's femininely badass as fuck, because there isn't a muscle in my body that isn't developed for a purpose."
4) When she called out whoever thought it was a good idea to Photoshop her arms.
When Rousey realized a promotional image she uploaded to social media ahead of her appearance on the Tonight Show Starring Jimmy Fallon was retouched to make her arms look smaller, the fighter immediately made a public apology.
"I have to make an apology to everyone," Rousey wrote on her Instagram page. "I was sent a picture to share on social for Fallon that was altered without me knowing to make my arms look smaller. I won't say by who — I know it was done with severely misplaced positive intentions — but this goes against everything I believe and I am extremely proud of every inch of my body. And I can assure you all it will never happen again. I could not be more appalled and hope you all forgive me."
No apology needed, Rousey.
5) When she perfectly described what it means to be a real man.
"It's easy to be lazy and not push yourself when you're with a woman who doesn't challenge you at all," Rousey told Huffington Post last year. "I think that's why some men are intimidated by successful women, because they're intimidated by that challenge and that comparison and really having that in their lives, having someone to pursue achievements with."
"A real man is one that doesn't feel the need to dim the light of his woman in order to make himself feel brighter," Rousey continued.