How to Turn on Geofiltering on Snapchat and Show Everyone Where You're at for $5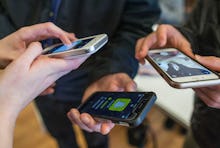 Al Drago/Getty Images
Geofilters are a cool new feature on social messaging app Snapchat. According to the official Snapchat website, the filters are "a fun way to share where you are through filter overlays."
The Snapchat geofilters are designed to be specific towards neighborhoods and other locations. "While the unique designs of Geofilters will change place to place, you can find them in a few big cities around the world to start," the website reads. At first, the geofilters were limited to only the specified locations. But now, Snapchat is unveiling custom geofilters that allows its users to define the tag's limitations. 
Read more: Why Snapchat Might Not Be Awesome For Your Relationship 
According to The Verge, Snapchat users can "choose spaces that are a minimum of 20,000 square feet — about the size of an office — to a maximum of 5,000,000 square feet — roughly a few city blocks. The custom filters can stay live from an hour to thirty days, and Snapchat imagines they'll be used during weddings and other events." 
However, Snapchat users must submit their own designs through an online portal. The geofilters cost $5 to have the designs submitted, approved and released. The cost rises with an increase in time or size of the area of the geofilter. Wondering how to use the geofilter feature on Snapchat?
To use the geofilters, you have to make sure that your device's location services are turned on. 
Then inside the Snapchat app, users must go to settings, denoted by a gear symbol. Then, tap "additional settings" under the manage tab, where pressing the "filters" button will turn on the geofilters.
Have fun!