David Bowie's 'Blackstar' Is the Subject of a New Instagram Video Miniseries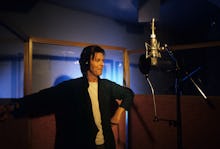 Kevin.Mazur/Getty Images
Days before David Bowie's death on Jan. 10, the musical icon dropped Blackstar, his 28th studio album. As Rolling Stone reported Monday, he had arranged for InstaMiniSeries to hear Blackstar in the fall of 2015 and use the album for a multi-episode social media show. In December, the team wrapped Unbound: A ? InstaMiniSeries, which will premiere on Thursday.  
"Unbound: A ? InstaMiniSeries takes the audience on a journey of evocative images inspired by the moods suggested in the album's music, lyrics and artwork," reads the caption on Monday's Instagram announcement. "Each episode of the series is sure to capture the imaginations of all who experience it and will undoubtedly lead to endless speculation and discussion of meaning, metaphor and intention."
Read more: David Bowie Proved That Style Has No Gender — Over 40 Years Ago
A tall order, certainly, but welcome news for Bowie fans who are interested in seeing new takes on his final works. InstaMiniSeries will post new installments of the 16-episode Unbound every Monday, Tuesday, Thursday and Friday, according to the post. 
Bowie didn't collaborate with InstaMiniSeries creatives Nikki Borges and Carolyn Cecilia, said a press release for Unbound, but did give them "advance, unmediated access to the music and images" from the album, imposing "no limits or preconditions" on their use. 
This is because Bowie was technologically ahead of his time. That he set up his own internet service provider, BowieNet, in 1998 prompted the Guardian to eulogize him as a foreseer of our internet future. This same technophile streak was apparently what drew him to InstaMiniSeries.
"With his enduring legacy as a savvy observer and pioneering user of emerging technology and media, Bowie saw in InstaMiniSeries an exciting new platform to explore interpretation of and storytelling within his music," the press release said.
Episodes won't follow a "literal, linear narrative," according to the release, and were individually conceived with a global audience in mind. According to Rolling Stone, Tavi Gevinson — founder of Rookie magazine — and actress Patricia Clarkson will feature in the series. 
Look out for the first episode on Instagram, beginning Thursday.