13 Celebrities' First Instagram Photos — See the Pictures That Started It All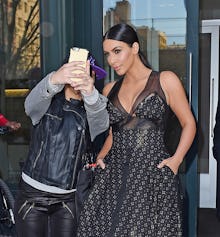 NCP/Star Max/Getty Images
It's basically expected now that celebrities will all have perfectly maintained, frequently updated Instagram accounts, but all those celebs had to start somewhere. From Kim Kardashian West, the unofficial original queen of selfies, to music heavyweights Taylor Swift and Justin Bieber, here are some of the adorably clueless, very first Instagram photos from some of the biggest celebs on the planet.
Read: Kim Kardashian Flew Across the World for Churros and She DGAF If You Judge Her for It
1. Kim Kardashian West
Kim K's very first Instagram post was a sort of out-of-focus portrait with the caption "My first Instagram pic ... Kisses for Instagram!" She's come so far.
2. Taylor Swift
Taylor's oldest Instagram isn't even a pic of her! It's a photo of the singer's grandmother — but we can see the resemblance.
3. Justin Bieber
Bieber is a prolific Instagrammer — but his first photo was a pretty boring shot of some cars on the highway. Way to use those filters though, Biebs.
4. Beyoncé
Queen Bey is known for her carefully curated Instagram account, and her oldest pic is a perfectly-lit Obama endorsement. 
5. Justin Timberlake
Justin's very first Instagram was taken from a car in Los Angeles, with the caption, "Take a good look, only time you'll see no traffic on the 101. Headed to Staples. #JTGrammys." Let's hope he was in the passenger's seat, because Instagramming and driving isn't a good idea.
6. Kylie Jenner
Kylie Jenner's first Instagram post was a fireplace. She's gotten way better at Instagram since then.
7. Drake
Canadian rapper Drake aka Champagnepapi's first Instagram post was taken outside of what might be a private plane — and it's also got a "fun" vintage filter. 
8. Nicki Minaj
Minaj's first Instagram post wasn't even a photo — it was this portrait, with the caption, "It's Barbie Bitch!!!!!!!!!!!!!!"
9. Jaden Smith
Jaden Smith's very first Instagram post was a photo of his  ... legs? Those pillows look nice though.
10. Kendall Jenner
Kendall's first pic was of some randos at Disneyland, who probably don't even realize that they're in an Instagram photo that has more than 30,000 likes.
11. Laverne Cox
Laverne Cox's very first Instagram was a selfie, with the caption, "My first Instagram pic ever at least taken by me on my own phone."
12. Harry Styles
Um, what? Harry Styles' first Instagram picture was this herd of deer. He captioned it "Deerstagram."
13. Miley Cyrus
Cyrus' very first Instagram upload was a pic from a Maxim photoshoot, uploaded without comment.