The Oscars Are Nearly as Male as They Are White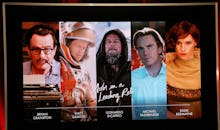 The 2015 Academy Award nominations looked a lot like the 2014 nods: monochrome. In a sequel to the previous year's #OscarsSoWhite fiasco, the Academy of Motion Picture Arts and Sciences failed to nominate a single person of color in any of the acting categories. This led to celebrities speaking out against the Oscars, even threatening to boycott.
In the end, faced with a PR catastrophe, the academy voted to make big changes moving forward to diversify membership. Theoretically, a more inclusive body behind the scenes will lead to a batch of nominations that better represents the best work of the year by a variety of performers.
This is hardly the academy's only problem, though. In fact, for all the discussion of how exclusive the Oscars can be this year, very little has been made of how male it is.
Because the acting categories are split 50-50 — best actor and supporting actor versus best actress and supporting actress — there's an enforced gender parity. This makes the gender gap at the Oscars a little harder to notice at first blush. A closer look, however, reveals how underrepresented women are in nearly every other category.
Take last year's best picture race, for instance. Of the eight nominees, not one was actually about a woman. They were about everything from a boy growing up to Martin Luther King Jr., from a sniper to a mathematician. But all of them were men.
Read more: The Oscars' Decision to Diversify Membership Is Groundbreaking, Shocking and Necessary
Things are slightly better this year, with female-led best picture nominees Brooklyn, Room and Mad Max: Fury Road, the latter of which proved deeply feminist despite being named for a man. Yet the only films with heat to actually win best picture are overwhelmingly male: The Revenant, The Big Short and Spotlight.
Indeed, looking at the history of the best picture winners over the years, this gender disparity is obvious:
Not even a full 20% of all best picture winners — over 87 years of awards — has starred a woman. That isn't just a disparity, it's a full-blown failure to recognize stories about women. This is maybe unsurprising, however, when one remembers exactly how old and male academy membership is.
Beyond the movies themselves, the talent working on those films the academy favors is deeply gendered. You may know Kathryn Bigelow is the only female best director winner in Oscar history. But can you take a guess as to how many best pictures were directed by women? Four? Three? Two, at least?
One.
Bigelow's film, The Hurt Locker, is the only film directed by a woman to win best picture. Eleven others have been nominated, but only two of those films' directors snagged a best director nomination (Lost in Translation's Sofia Coppola and The Piano's Jane Campion). In 2015, though her film Selma was recognized, director Ava DuVernay was snubbed for best director.
Best director is just one category, though. Certainly other categories must feature more women nominees — or so you'd think. As a Women's Media Center report released earlier this month found, the gender gap is more like a canyon. Over the past decade, 327 women have been nominated for Oscars. How many men have been nominated?
Over 1,000 more men than women — 1,060, to be exact — received Oscar nominations in the last decade. Best cinematography has zero female nominees in Oscar history. Granted, there are far too few female cinematographers, but even those who do award-worthy work get ignored.
Where was Ellen Kuras' nomination for Eternal Sunshine of the Spotless Mind, or Amy Vincent's for Hustle and Flow? Why wasn't Maryse Alberti nominated for the beautiful long shots and artful depictions of boxing in Creed this year? Yes, the chosen nominees are all deserving as well. But Alberti, also deserving, never stood a chance at breaking into such a boys' club.
The academy has a long way to go toward better representing the people who work in Hollywood — and the audiences who see their movies. This isn't just a problem on one front, but on several: The academy needs to include creators of color, women and LGBTQ performers. Their announced changes are a good step, but these stats are just a reminder they've only placed the first brick in building a whole new academy.