"Damn Daniel" Meme Has Made a Pair of $45 Sneakers the New "It Shoe"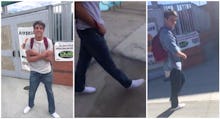 Over the weekend, one unlikely video took over the internet's gaze — and brought with it a pretty unassuming pair of sneakers.
Titled "Damn Daniel," the 30-second viral clip was produced by a high schooler named Josh and shows him running into his friend Daniel Lara at school. In an almost mesmerizing, flirtatious cheer, Josh can be heard off-camera saying, "Damn, Daniel" over and over and over again. 
During the course of the vid, which Josh initially posted to his Twitter account, there was one clear breakout star (other than Daniel, of course): his white Vans. 
"Damn, Daniel! Back at it again with the white Vans!" Josh says twice in the video.
That proclamation alone was all it took for white Vans sneakers to be (back) on everyone's mind. In fact, currently on eBay there are 100% real listings for "damn daniel white vans" going for upwards of $100,000 (although it's tough to tell from the video whether they have laces or not).
The response has been so extraordinary that the the video, which has been retweeted more than 274,000 times in just a week, has even caused many to think that the team at Vans was behind it all.
While we have yet to prove that to be true or untrue (we've reached out to Vans for comment), we do have some good news if this video has sparked your interest in a pair of low-top, slip-ons commonly worn by skaters and the fuccboi nation. 
For starters: They are $45. 
Take that, Yeezy.
Also, they appear to be pretty easily bought on the Vans website — at least for now.  As one fan and reviewer wrote, "If Daniel Lara can pull this off, then you can too." Noted. 
Best of all, if you decide to buy these shoes, you get the priceless privilege of taking part in a meme, which will absolutely, definitely, most likely never die.
It's not off-trend in the least, with white shoes being totally in right now. Could something as simple as a viral video really turn white Vans into the new Stan Smiths?
Guess only time will tell us now. In the meantime, we heartily encourage Vans to make Daniel its new spokesperson.
How could they resist?