This Singer Took the Rhythm Out of Rihanna's 'Work.' Now White People Actually Love It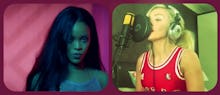 Now that Rihanna and Drake's "Work" is No. 1 on the Billboard Hot 100, it's officially the biggest song in the country. And since it's topping the charts, anybody with a keyboard is going to want to cover it. 
In fact, it's already happened. 
Read more: Rihanna Releases Two-Part "Work" Video Featuring Drake, Weed and a Lot of Twerking
On Thursday, Samantha Harvey, a YouTube singer, posted a video of her lethargic cover of Rihanna's "Work" to her YouTube and personal Facebook pages. The stripped-down cover shows Harvey belting the words — sans Rihanna's affected Barbadian accent — over a simple keyboard. 
Harvey, who said on Facebook that she had to "translate" Rihanna's lyrics before she could film the video, garnered high praise from commenters. 
"I hate this song when it comes on the radio ... but when you sing I LOVE it!" one commenter wrote.
YouTube commenters were similarly effusive. "Didn't realize how amazing the lyrics were until this video," one person commented. 
We're not sure what Rihanna thinks of this cover of her 14th No. 1 single on the Billboard Hot 100, but here are 14 ways the bad gal might react: 
So, let's keep the crown where it belongs.