Dr. Luke Breaks Silence on Kesha Case on Twitter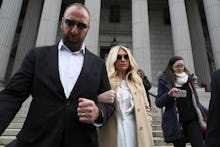 Monday, following a weekend where #FreeKesha was one of the biggest trending stories on Twitter, Kesha's producer and alleged abuser, Lukasz Sebastian "Dr. Luke" Gottwald, took to Twitter to address the case.
"Until now I haven't commented on the lawsuits," he began, "which should be resolved in court not here on Twitter." 
However, he decided to speak his mind anyway.
In a long series of tweets, Gottwald told fans he "appreciated their compassion" but unfortunately they didn't have enough evidence to make a sound judgment. 
The only person who has that, he wrote, is the judge who ruled in Dr. Luke's favor Friday. 
"I did not rape Kesha," he wrote, describing her as being like "his little sister." He also shared screenshots of articles that report Kesha admitted under oath she had not been raped.
Note: The following tweets contain text that may be triggering to survivors of sexual assault.
The producer compared his cases to incidents that took place at University of Virginia and Duke University, when the public rushed to judge alleged rapists before the facts came to light.
He shared screenshots of a New York Daily News article dating back to October 2014, around the time Kesha initially sued Dr. Luke, which claimed Kesha "denied under oath the horrible allegations now being made against me," and a TMZ story with the same angle.
Dr. Luke also took shots at Kesha's lawyer Mark Geragos, drawing attention to one of his past false accusations that Luke had been the unnamed record producer who raped Lady Gaga when she was 19. Gaga later denied that claim publicly.
He ended with an appeal to his audience's sympathy, which may be difficult to sway, considering how many artists have voiced their support for Kesha in this case.
This story will be updated as more information becomes available. 
If this story or any story about the sexual abuse allegations regarding Kesha is triggering, please reach out to the National Sexual Assault Online Hotline.
Feb. 22, 2016, 5:54 p.m.: This story has been updated.