If Drake's New Album 'Views From the 6' Is Anything Like the Last, It'll Be a Classic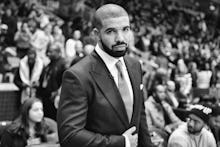 Ryan Emberley/AP
After teaming up with the Barbadian singer Rihanna for the Reggae-themed music video "Work," and releasing the mixtape What A Time To Be Alive with the Atlanta-based rapper Future in 2015, Drake seems set to take over in 2016. 
The OVO rapper has come out with music so frequently lately, that it's sometimes easy to forget that his "last" studio album, Nothing Was The Same, was released in 2013. The Canadian rapper's 2015 project,  If You're Reading This, You're Too Late, is Drake's fourth and final collaboration with the Cash Money label, according to Business Insider. 
Read more: 7 Ways Drake Revolutionized Hip-Hop That Prove He's Already a Legend
The artist called If You're Reading This, You're Too Late a mixtape, not an album, during a Sprite concert. "Trust me, it's just a mixtape, I'm still working on an album," Drake informed the crowd, MTV reports. 
However, Drake's fans didn't seem to care either way. If You're Reading This, You're Too Late received generally positive reviews from critics. "Is it an album? Is it a mixtape? Who cares? The 17 tracks that Drake released at midnight on a recent Thursday hit harder and held together more cohesively than most big-budget event albums," Simon Vozick-Levinson wrote in Rolling Stone. "For the first time in his career, Drake doesn't sound like he wants to be remembered as one of the greats. This time, he just is."
If You're Reading This, You're Too Late debuted at number 1 on the U.S. Billboard 200, and broke Spotify's record for most streams in a debut week with over 17 million streams within the first three days. The record was previously set by Drake's 2013 studio album Nothing Was The Same, with over 15 million streams. Since the 2015 release, Drake has been building anticipation for the Views From The 6 album. 
Many music fans are on the edge of their seats for Drake's follow up to his 2013 album. So when an alleged snippet of the album was released on Twitter by the It's BizKit music site in January, Mic contacted the publication's founder in order to determine the veracity of the clip. 
"Views is going to break the internet in half once it drops," Lawrence told Mic. "Drake is Drake. It's going to break the internet worse than when Kim Kardashian released her last set of photos."
Views From The 6 will be released in April, though the exact date hasn't been released yet. We're ready.