Stop Comparing Samantha Bee and Trevor Noah — They Can Coexist in Late Night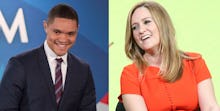 The busy and frequently changing late-night scene introduced its newest entrant this month with the premiere of TBS' Full Frontal With Samantha Bee — a long overdue but welcome show for a format that needs more diversity with its hosts. Bee was previously pegged an heir-apparent to Jon Stewart after her time as a longtime and successful correspondent on the Daily Show; not even being considered for the vacancy was an egregious slight.
So Bee struck out on her own, and is addressing late night's gender gap in multiple ways. In addition to being the only female host in late night, she's hired a writing staff comprised of an even split of men and women. She also chose an appropriate theme song for Full Frontal to add to her game-changing narrative: Peaches' "Boys Wanna Be Her."
Over at the Daily Show, in lieu of Bee, South African comedian Trevor Noah serves as Stewart's successor. He's made a substantive effort to globalize the program's format through the eyes of an outsider looking in on American pop culture and the political spectrum. It's a noticeable change from Stewart's presentation, tone and commentary; certainly Bee matches Stewart's delivery more closely. As such, questions have arisen over Comedy Central's decision to opt for Noah instead of Bee.
Yet, whether or not Noah creates the most accurate depiction of Stewart's Daily Show format is irrelevant — several Daily Show alums fill the late-night landscape, so it's not a missing flavor from late night. Rather, what Noah and Bee have brought to late night is a necessary voice on topics with a fresher lens: Noah is equipped to handle subjects from a global viewpoint, while Bee is able to bring a vibrant, unapologetic feminist voice to social issues.  
We've seen only three episodes of Full Frontal, but thus far, Bee has brought a refreshingly different tone to late night. This is, in part, because she has adopted the same subtle ferocity and witty charm that Stewart made a trademark. Moreover, she's already hit key social topics that other late-night hosts — all of whom (save John Oliver on HBO's Last Week Tonight) air more episodes per week and thus have more subjects they're able to hit — have ignored.
While Bee dug into Marco Rubio for his embarrassing gaffe at the New Hampshire GOP debate, in which he repeated the same memorized bit that President Barack Obama "knows exactly what he's doing," she also went on the offensive for his remarks against Hillary Clinton. Rubio stated that Clinton "believes all abortions should be legal, even on the due date of that unborn child."
In what could serve as a microcosm of Full Frontal's platform on social issues, and specifically women's rights, Bee brutally took Rubio down for the shortsighted jab. 
"That is literally the stupidest thing I've ever heard," Bee said. "Removing a baby on the due date isn't an abortion. It's called a caesarean. But you know what? That's fine. Keep telling your cabal of fetus fanatics that Hillary Clinton wants us to carry to term and deliver our babies directly into a Vitamix, so that Planned Parenthood can sell it to Whole Foods."
With an infectious energy and a feminist perspective, it's evident that Bee already appears comfortable in her new gig — though again, this shouldn't come as a surprise. It took a while, but Bee is finally a late-night host, and given her a substantive résumé, she's wholly deserving of a spot in a crowded, male-dominated late-night scene.
Why Bee wasn't considered for the Daily Show is a legitimate and somewhat troubling notion for Comedy Central. Network president Michele Ganeless said Noah was hired to replace Stewart because he would be able to bring an international outlook to the show, something an American host like Bee would be less capable of doing.  
"The world is becoming smaller and smaller every day, so having someone with a global perspective is important for us domestically, not to mention internationally," Ganeless told the Hollywood Reporter. "The world seems to be shrinking in terms of the speed with which information gets disseminated and what people know of different parts of the world. And to have somebody who is very agile in that sense is a big plus for us."
As such, Noah's appointment can be considered a success. He has frequently honed in on political and cultural topics with a callback to his global outlook and background. The message was clear from his debut opening monologue, "Growing up in the dusty streets of South Africa, I never dreamed that I would have, well, two things really: An indoor toilet and a job as the host of the Daily Show ... and now I have both, and I'm quite comfortable with one of them."
So far, his best segments have incorporated his international background in some respect to contextualize issues. Most notably, he compared Republican frontrunner Donald Trump to an African dictator. In pointing out the underlying concern that the oft-offensive Trump has amassed a tremendous amount of support in the polls, the frighteningly accurate bit compares him to the likes of Zimbabwean President Robert Mugabe and former Libyan leader Muammar Gaddafi by use of near-indistinguishable quotes between the subjects.
Yet, as critics have noted, Noah is not yet comfortable in Stewart's place on the Daily Show. It's understandable; unlike Stewart alums such as Bee, Stephen Colbert and Larry Wilmore, Noah comes in without a late-night background, making the adjustment even more difficult.  
"In the geologic time with which late-night shows are judged relative to other television, the four months Noah has been in charge of the Daily Show is nothing," Willa Paskin wrote for Slate. "Making a late-night show work is widely understood to be a lengthy and arduous process ... Noah will have time to figure out his point of view and his writers time to figure out how to maximize his particular skills."
Ultimately, the critical comparisons made between Bee and Noah are inevitable, but unnecessary. If what Comedy Central has been on the record about with regard to the Noah hire is true, they've got what they wanted: a global voice. Meanwhile, TBS landed the most qualified free agent on the late-night market — someone who's been comfortable and confident from the get-go.
Let's not juxtapose the hosts; both can coexist with one another on their respective platforms. Most important of all, they further diversify what was up until a year ago an all-white, all-male late-night scene.