Jack Antonoff Just Offered Kesha the Chance to Make Music Again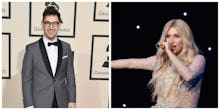 Musician and producer Jack Antonoff offered a sympathetic gesture to Kesha on Monday, saying he'd be happy to produce with her while she remains locked in a music contract with the man she alleges sexually, physically and emotionally abused her for more than 10 years.
On Friday New York Supreme Court Justice Shirley Kornreich ruled against the pop singer, who sought freedom from her Sony recording contract, which keeps her tied to her producer and alleged abuser, Lukasz "Dr. Luke" Gottwald.
Read more: Taylor Swift Just Gave Kesha $250,000 Amid Ongoing Legal Fight
Offering to "make something together and then leak it for everyone," the Fun and Bleachers musician took to Twitter with an idea that could give the pop singer an outlet for her frustration.
Antonoff has produced and written songs for pop titans such as Sia, Taylor Swift and Sara Bareilles. While leaking tracks would not be financially beneficial to Kesha, it would undermine her contract with Sony and Dr. Luke. (Flying in the face of it all, in December the "Timber" singer went rogue in a surprise concert with a new band, the Yeast Infection.)
It appears Antonoff started a trend. Later that day, DJ and producer Zedd — who has worked with Justin Bieber, Ariana Grande and Lady Gaga — also reached out with a similar offer.
While Kesha's legal reality does not give her the freedom to sever ties with the company she says paired her with an abusive producer, a sliver of a silver lining has formed through the support of fans and fellow musicians who have been rallying behind the #FreeKesha cause.
Get the five stories that will challenge you to rethink the world by signing up for MicCheck Daily.