This 110-Year-Old Woman DGAF About Her Damn Birthday or Your Damn Morning Show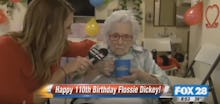 It's exhausting work being a professional centenarian. Walking (or wheeling) among the ranks of the extraordinarily long-lived is something that few get to enjoy for very long — if at all. 
And then there are the gawking local newspaper profiles, the burden of being trotted out on TV for gawking morning show audiences or, God forbid, having your face plastered on a jar of Smuckers.
But the 110-year-old Flossie Dickey has no time for your awe.
The Spokane, Washington resident was having absolutely none of it when a local news team dropped by to learn her "secrets" to longevity. 
Read more: The "Oldest Living People" in the World Share Their Secrets to a Long Life
In a four-minute interview with Good Day Spokane, an unsmiling Dickey swatted aside questions from anchor Nichole Mischkes with gloriously cranky responses, at times declining to offer even that.
"Flossie has three children, you have 12 grandchildren, 20 grandchildren and 15 great-great grandchildren. You sound like a very busy lady," Mischkes said.
Her favorite activity? Napping. Her favorite snacks? Pie and whiskey. But that's not the secret to her longevity. In fact, Dickey insisted, there is no secret. When asked about how she made it to 110, the woman was blunt.
"I don't know," she said, adding, "I don't fight it; I live it." (She was more verbose in an interview with another local station, KXLY: "I never gave advice to anybody. I just thought, let 'em learn like I did.")
Still, it was an answer that frankly felt more scientifically sound than those of other super centenarians who have peddled everything from red wine to bacon to avoiding men.
Undeterred, a bold Mischkes pressed on: "Flossie's family is gonna be coming out here to throw her a big birthday party. Are you excited for your party?"
Flossie: "Not one bit."
It's been a banner week for the ultra-aged. Over the weekend, a video of a dancing 106-year-old woman who visited the the White House also went viral. Virginia McLaurin met the Obamas during a Black History Month event, and expressed her overwhelming glee by busting out some movies with the first couple.
Something tells us the two wouldn't be friends.
Either way, happy freakin' birthday, Flossie. Here's hoping you get those many naps you requested.
Watch the full interview here: