The Shameful Razzie Awards 2016: Predictions for Every Major Category of the Worst Movies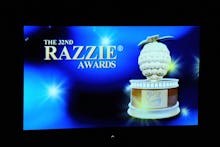 Allen Berezovsky/Getty Images
Each year, the Golden Raspberry Awards hilariously hand out spray-painted trophies (which cost just under five bucks) to the very worst of Hollywood. This year's dishonorable Razzie Awards kick off Saturday night, just before the 88th Academy Awards, otherwise known as #OscarsSoWhite, which air Sunday. Looks like tinsel town is preparing itself for a pretty shameful weekend. 
Just like the Oscars, there are some films and actors that clearly have an advantage against other nominees in their categories. Fifty Shades of Grey will almost inevitably win a not-so-coveted award, as the drama-erotica is up for six Golden Raspberries, including worst actor, worst actress, worst director and worst picture. Ouch. 
Read more: Viola Davis And Idris Elba Address #OscarsSoWhite During SAG Awards 
Below are the nominations for every major category in the 36th annual awards show, announced in January on YouTube and voted on by nearly 900 Razzie members, as Mic previously reported. We've placed our best bets on which actor or film will take home the prize in bold. Of course, being terrible is subjective, and it's really anyone's guess which nominees will be leaving the Razzies in smiles or tears. 
Worst Picture
- Fantastic Four
Nobody needed a sequel to this regrettable disaster of a film.
Worst Director
- Andy Fickman, Paul Blart: Mall Cop 2
The fact Six made audiences sit through a third Human Centipede should be enough for the director to be handed this Golden Raspberry.
Worst Actor
- Johnny Depp, Mortdecai
2015 will forever be remembered by Sandler fans as his most disastrous year in film (yet).
Worst Actress
- Katherine Heigl, Home Sweet Hell
I bet Kunis hasn't even seen Jupiter Ascending. It's probably on her laundry list of movies she wants to see if she ever has the time, but never gets around to it. 
Worst Supporting Actor
- Chevy Chase, Hot Tub Time Machine 2 and Vacation
Pixels was already bad enough, and James certainly didn't bring much to the table.
Worst Supporting Actress
- Kaley Cuoco, Alvin and the Chipmunks: The Road Chip [Voice Only] and The Wedding Ringer
Cuoco should have quit while she was ahead.
Worst Screenplay
- Simon Kinberg, Jeremy Slater and Josh Trank, Fantastic Four
The innocent little erotica novel middle-aged women read before bed never needed to become a Hollywood flick.
Worst Rip-Off or Sequel
- Alvin and the Chipmunks: The Road Chip
If you managed to crack a smile at any point throughout the second Hot Tub Time Machine 2, it was likely because you saw a clock and noticed the movie was almost over. 
Worst Screen Combo
- All four "Fantastics," Fantastic Four
Admittedly, all four "Fantastics" make just as good a choice, but Sandler's nomination and pairing with "any pair of shoes" is too hilarious not to win.
- Elizabeth Banks, for directing Pitch Perfect 2 after the Razzie-winning Movie 43
Here's hoping the Razzie champ makes an appearance at the 2016 Razzies.