'Fuller House' on Netflix 2016: Release Date, Trailer, Cast Info and How to Watch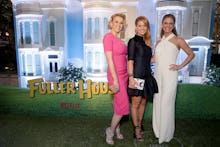 Eric Charbonneau/AP
The beloved San Franciscan Tanner family is at it again in the new 13-episode long Netflix original series Fuller House, which will be available streaming on Friday. As a spinoff, Fuller House is a flipped version of the original '80s and '90s Full House sitcom.
Like her father in the original series, a widowed D.J. Fuller — née Tanner, played by Candace Cameron Bure — and her three kids move back into her childhood home and enlist the help of her sister Stephanie Tanner (Jodie Sweetin) and best friend Kimmy Gibbler (Andrea Barber) and daughter Ramona Gibbler (Soni Bringas). D.J. Fuller's three children are boys — which contrasts with the three Tanner girls in Full House — and are Max Fuller (played by Elias Harger); Tommy Fuller Jr. (played by twins Dashiell Messitt and Fox Messitt); and Jackson Fuller (played by Michael Campion).
Read more: 'Fuller House' Reviews: How Critics Are Reacting to Netflix 'Full House' Reboot
The spinoff stars almost the entire original Full House cast, including John Stamos as Uncle Jesse and Lori Loughlin as Aunt Becky — just no Mary-Kate and Ashley Olsen as Michelle Tanner due to an alleged miscommunication. But creator Jeff Franklin manages to address Michelle's absence to audiences in a somewhat realistic way, MTV reported. The old cast members will pop in and out throughout the show.
Some critics have argued the qualities that launched Full House into success two decades ago are too outdated find their place now. However, others have said long-term fans will appreciate the rekindled emotion and friendships.
In case any fans were wondering, catchphrases will be included. 
Below is the trailer for Fuller House: