Demi Lovato Explains Her Passionate Reaction to Taylor Swift's Kesha Donation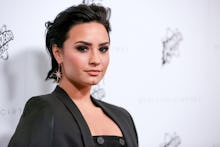 When Demi Lovato heard Sunday Taylor Swift would be donating $250,000 to help Kesha with any expenses as she battles her producer and alleged abuser Dr. Luke in court, she got a little heated.
"Take something to Capitol Hill or actually speak out about something and then I'll be impressed," she tweeted Sunday. 
The words brought her a ton of flack from Swift fans, who accused Lovato of trying to use Kesha's story to publicize a new rivalry with Swift. "There's no 'rivalry,' I just give more fucks than other people and would rather start a dialogue about women coming forward about being raped than throw money at one person," Lovato wrote on Instagram, defending herself against one such accusation.
She's changed her tack. In an Instagram post on her personal account, Lovato took time to recenter herself and her fans' attention back on those whom she says should be the focus of this story: victims of rape and sexual assault. She posted an eye-opening graphic from the Enliven Project representing all the proportions of rapists who get reported, face trial and get convicted versus how many are falsely accused.
Read more: One Tweet About Kesha Reveals a Double Standard in the Music Industry
"As most people know, I tend to get fired up about the things I believe in, and although my heart and intentions are always in the right place, unfortunately sometimes my passion gets the best of me and causes me to say things that I probably shouldn't say," Lovato wrote to start off her note, admitting her words distracted from the issue at stake.
"Our focus should be on the topic of victims of sexual and physical abuse being afraid to come forward with their stories," she wrote. "It baffles me that when it comes to serious issues like equality and abuse, too often women are not taken as seriously as men."
The abuse hardly falls equally along gender lines. According to the National Sexual Violence Resource Center 91% of the victims of rape and sexual assault are female, while 9% are male. Sexual assault is also one of the most underreported crimes, as 63% of rapes are not reported to the police. 
This is exactly the culture Lovato's comments are seeking to dismantle.
"Everyone has their own way of giving support to others, and at the end of the day, helping victims is all that matters," Lovato wrote. "Ultimately, the message I want people to hear is it's okay to come forward with your abuse and if you do decide to take action, you are not alone."