Indiana Man Pleads Not Guilty in "Ethnic Cleansing" Hatchet Attack on Chinese Student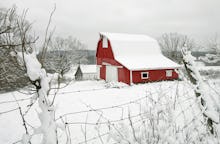 Yes, you read that correctly: Yue Zhang was hanging out in downtown Nashville, Indiana, on Thursday when a strange man suddenly charged at her and swung at her with a hatchet.
The 18-year-old Chinese exchange student — who was taking photos near the local courthouse with her Brown County High School class at the time — suffered a large cut down her back, but was otherwise unharmed and got discharged from the hospital.
Now her attacker, 59-year-old Dana Ericson, has pleaded "not guilty" to charges of attempted murder and "aggravated battery causing serious permanent disfigurement and battery by means of a deadly weapon," FOX 59 reported.
"The guy didn't act right," one witness told FOX 59. "He wasn't normal."
"The guy didn't act right. He wasn't normal."
Ericson, who is white, reportedly has a history of psychological problems. He's spent months in at least two psychiatric facilities in Indiana, and has faced prior criminal charges for stalking, battery, resisting law enforcement and a host of others, according to WBIW.
On Thursday, Ericson spotted Zhang with her class downtown and dashed across an intersection to get to her. After cutting the teen with a small Gerber hatchet — which measured four inches wide and six inches long — he fled the scene, as Zhang fell to the ground and witnesses looked on in horror.
When Ericson was apprehended by police later, he identified himself as a white supremacist and said he intended to kill Zhang. He added that he "hates these people," wanted to "make a point" and was trying to "perpetrate [an act of] ethnic cleansing."
"I don't believe in your law," Ericson shouted at the judge at his court hearing on Friday. "Your laws are a bunch of crap." Judge Judith Stewart has since ordered that Ericson undergo a psychiatric competency evaluation.
Ericson will not face hate crime charges because the state of Indiana does not recognize the term "hate crime" for criminal purposes, according to WTHR. But his actions come at a time when xenophobic violence is making headlines across the country. 
Acts of aggression toward Muslim and Sikh Americans in particular have increased since November, when a pair of attackers killed 14 people at a social services center in San Bernardino, California. In Bloomington, Indiana — 18 miles west of Nashville — a 19-year-old white man tried to strangle a Muslim woman outside a cafe in October, yelling, "White power!" throughout the attack.
"We're a very peaceful place to live and we're proud of that heritage, and we just want you to know that there's no malice toward anyone in this county."
According to FBI data, 52.4% of known perpetrators of hate crimes in 2014 were white. These incidents have prompted lawmakers to renew their push for anti-hate crime laws in the state. "It's not just an attack against one individual, it's an attack against the whole society," State Rep. Greg Porter (D-Ind.) told WTHR.
Meanwhile, residents of Brown County — where the attack on Zhang occurred — maintain it is a friendly place that regularly hosts exchange students without incident. 
"We're a very peaceful place to live and we're proud of that heritage, and we just want you to know that there's no malice toward anyone in this county," Norbert Garvey, a Brown County resident, told WTHR. "Toward anyone from abroad or from another place. Everyone is equal and welcome here."
h/t Angry Asian Man