Tommy Hilfiger Just Made History With a Clothing Line for Kids With Disabilities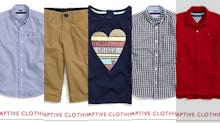 "Adaptive clothing" might sound like a Silicon Valley geek's take on fashion. But the phrase refers to something incredibly simple and necessary: clothing that's designed for people with disabilities.
Now a big-time designer is getting into the adaptive clothing game. This week, Tommy Hilfiger announced a line of adaptive clothing for children, created in partnership with the organization Runway of Dreams. 
Read more: These Designers Are Working to Make Stylish Clothes for Wheelchair Users
The shorts and pants are classic Tommy, with lots of red, white and blue and preppy plaids. But the beauty is in the details: buttons and zippers replaced by MagnaReady magnet closures, and adjustable waistbands, pants length and sleeve length.
The details come courtesy of countless parents who've spent years trying to help their children wear "normal" clothing. One of those moms, New Jersey-based fashion designer Mindy Scheier, came to a revelation after her son, Oliver, asked to wear jeans to school like his friends. 
Oliver has a rare form of muscular dystrophy that limits his movement and requires him to wear leg braces, making jeans a challenge. 
That's when Scheier decided to use her fashion design background to give kids like Oliver clothing that actually works for them. Runway of Dreams, which Scheier founded in 2013, is a nonprofit that works with fashion companies to create adaptive clothing. 
And according to the organization, Tommy Hilfiger is the first major brand to create an adaptive version of an existing clothing line.
The line, which includes 22 total pieces for boys and girls, cost the same as Tommy Hilfiger's current clothes for kids, and the styles are nearly identical. But the small details, like shirts that magnet shut and pants with Velcro at the fly instead of zippers, set it apart.
"This collaboration is a huge step forward and is the first of many future Runway of Dreams initiatives to bring adaptive clothing to the market and make fashion truly inclusive," Scheier wrote in an editorial for Time.
The line is part of a growing movement within the fashion world to recognize those with disabilities, from including differently abled people in runway shows and ads to creating adaptive clothing that actually works for people with unique needs like wheelchairs.
The impact of that visibility and innovation is clear from a powerful video made by Helen Polise for Runway of Dreams that features parents of kids with disabilities, including Scheier, and children themselves, including Gianna Schiavone, who recently walked in a Fashion Week show.
Also making a cameo in the video is Lucy Jones, the 24-year-old designer who became known this past year for her seated fashion collection, designed for her senior thesis at Parsons School of Design. Jones is just one of a few designers who are creating clothing adapted for adults who use wheelchairs.
Now, her insight into designing for disability is extending to kids as the creative director of Runway of Dreams. The line for Hilfiger, Scheier said, is hopefully just the start.
"Tommy Hilfiger is the first of what I believe will be many brands to do this," she wrote for Time. "It's time for the industry to come together to make change happen — to see this consumer market as an exciting chance to engage new shoppers, but more importantly, to make an impact."