There's Something Missing From the New 'Baywatch' Costumes...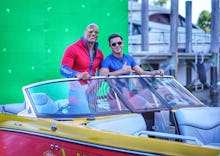 While it was Pamela Anderson's red one-piece bathing suit — along with her slow-motion beachside run — that Baywatch scorched into the pop culture zeitgeist, there was another, less gawked-over crimson suit-wearer peering through his binoculars atop the beach's observation tower: Lt. Mitch Buchannon, lovably played by David Hasselhoff in all 11 seasons of the show, from 1989-2001.
Read more: Why the Olsens Didn't Do 'Fuller House' – Mary-Kate and Ashley MIA From Netflix Spinoff
Since today, everything old is new-ish again, Baywatch is getting a big screen reboot, with Dwayne "The Rock" Johnson starring alongside Zac Efron. The movie doesn't debut until May 2017, but on Monday, the Rock posted the first glimpse of the actors in their beach gear in an Instagram snap from the set — and we couldn't help but notice one update from the original: the board shorts.
Seriously, what is with those long shorts?
To be clear: There's nothing wrong with board shorts, the knee-length, meant-for-action sportswear originally intended for surfers and somehow co-opted by schlubs in search of an outlet for their love of neon prints and psychedelic patterns. (So OK, a little judgment.) 
Efron's and the Rock's shorts aren't neon. But they're just not... Baywatch.
Baywatch extended short shorts' last gasp, as the trend for men was already waning in the 1990s. Sean Connery and Frankie Avalon made them look great in the mid century, as did Richard Simmons so famously in the 1970s and 1980s. But by the '90s, they were bordering on uncool.
Just ask these guys:
And yet, over a decade after Michael Jordan prompted the NBA to lengthen its players shorts, Baywatch was still wholly embracing men's bare legs, complementing the show's ample female cleavage with a heaping dose of male thigh.
Perhaps the idea was to give viewers a dose of eye candy to match that from Anderson, Yasmine Bleeth, Carmen Electra and the seemingly never-ending rotation of buxom lifeguards, or maybe the show was just unaware of changing trends. Either way, Hasselhoff's teeny suit displayed a proud male confidence that was never questioned. While showing some leg in short-shorts may render a man a comical sex object — or, in our modern era, suggest homosexuality — Baywatch never insinuated either with its swim trunks. Instead, Buchannon was the boss man. Nobody fucked with the lieutenant (except for his old nemesis, Sato, during 2003's Baywatch: Hawaiian Wedding, but let's not go there).
Why would the new film version diverge from this? Was the look considered too feminine? Or is the movie simply reacting to today's trends? (Let's face it, guys today — Zac Efron among them — love their board shorts.) Or is sexism at play?
When Sarah Michelle Gellar brought Daphne Blake to the big screen in 2002's Scooby Doo, her conservative getup, popularized in the 1969 original series, was nixed for a sexed up, cleavage-baring dress. Both film iterations of X-Men's Mystique — played by Rebecca Romijn Stamos in 2000, and later by Jennifer Lawrence starting in 2011 — have seen the character stripped of her white dress entirely in favor of a mere layer of blue body makeup.
Women's costumes, in short, get sexier and sexier. Men's, apparently, not so much.
Sure, putting the new Baywatch men in board shorts may be one of the lesser instances of sexist double standards in film. But if we're bothering to remake a classic: Come on boys, show us some skin. Why deviate from something that was such a male staple in the famously skin-baring TV show while leaving the women's swimsuits sexy as ever?
Filming is clearly still underway. But might we suggest a quick switch-out to a shorter swim trunk? If for no other reason than in solidarity to The Hoff and his famously confident, masculine, sexy upper thigh. 
C'mon, Zac. Don't be shy.