What's Coming to Hulu in March? Here's a Complete List of Movies and Shows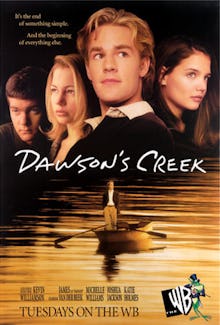 Sony Pictures / The WB
Many current series are starting to return from their winter hiatus, but '90s nostalgia is still going strong. According to a Hulu press release, subscribers will soon be able to indulge in teen dramas such as Dawson's Creek and Party of Five. The latest seasons of more recent shows like Louie and Archer will also be available, as well as all five seasons of the critically acclaimed, Emmy award-winning FX series Damages. 
Read more: How Does Hulu Make Money? Hulu's Business Model Explained
On the other hand, since many new current shows will be returning from their hiatus, new episodes of Empire and Agents of S.H.I.E.L.D. will be uploaded the day after their original airdate. Delayed uploads of Comedy Central shows that have already premiered, like season 3 of Broad City and Not Safe With Nikki Glaser, will also be available. Tyler Perry's live religious musical, The Passion, will also premiere on Hulu after it airs on Fox.
March will also see the premiere of a Hulu original called The Path, from the producers of Friday Night Lights and Parenthood, starring Breaking Bad's Aaron Paul, True Detective's Michelle Monaghan and Hannibal's Hugh Dancy.
Additionally, a slew of James Bond films, including From Russia With Love, Tomorrow Never Dies and Goldeneye will be available to Hulu subscribers.
Below is a list of titles coming to Hulu in March according to their press release:
Available March 1
Dawson's Creek: Complete Seasons 1-6
Party of Five: Complete Seasons 1-6
Damages: Complete Seasons 1-5
Not Safe with Nikki Glaser (Comedy Central) – Series Premiere
The Cutting Edge (1992)
For Your Eyes Only (1981)
From Russia With Love (1964)
Goldeneye (1995)
License to Kill  (1989)
Tomorrow Never Dies (1993)
Top Gun (1986)
A View to a Kill (1985)
Available March 3
Rosewood: New Episodes (Fox)
Marc Maron: More Later (2015)
Available March 4
Louie: Complete Season 5 (FX)
Available March 5
Big Eyes (2014) – Available only to Showtime subscribers
Available March 7
Once Upon a Time: New Episodes (ABC)
Quantico: New Episodes (ABC)
Available March 9
Agents of S.H.I.E.L.D.: New Episodes (ABC)
Broad City: Season 3 Premiere (Comedy Central)
Available March 10
The Carmichael Show: Season 2 Premiere (NBC)
Available March 17
Nashville: New Episodes (ABC)
Available March 22
The Passion: Special (Fox)
Available March 29
Archer: Complete Season 6
Available March 30
The Path – Hulu Original Series Premiere
Available March 31
Empire: New Episodes (Fox)