Obama Announces Plan to Finally Close Guantanamo Bay Prison Facility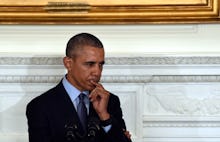 Just over six years after missing his self-imposed deadline to shut the United States detention facility at Guantanamo Bay, Cuba, President Barack Obama on Tuesday revived his push to shutter the prison, submitting to Congress a plan to move the facility's remaining detainees.
Speaking from the White House, Obama said that continuing to operate the facility "does not advance our national security."
"It undermines it," he went on. "This is not just my opinion. This is the opinion of experts. This is the opinion of military. It's counterproductive to our fight against terrorists, because they use it as propaganda in their efforts to recruit."
What Obama wants to do: The administration's plan lays out three steps for handling the 91 detainees who remain at the prison.
First, the administration will seek out opportunities to transfer eligible detainees to their home countries or, if that's not possible, third countries. According to the administration's document, 35 detainees have been deemed eligible for transfer.
The plan specifies two criteria for transfer: The U.S. must be assured that proper measures will be taken to prevent detainees from posing a security threat, and countries must treat transferred detainees in accordance with U.S. standards for humane treatment.
The administration will also assess the threat posed by ineligible detainees who don't face military commission charges, with an eye toward finishing the initial review process by this fall.
Finally, for detainees who remain in U.S. hands, the plan proposes a mix of measures, including military commission trials, transfer to other countries, foreign prosecutions and transfer to facilities on U.S. soil. The latter step would require Congress to lift a legislative ban on transfers of detainees to domestic soil — a tall order, given that both chambers are under Republican control.
According to the administration's figures, housing detainees on U.S. soil would save taxpayers between $65 million and $85 million annually. Factoring in transfer costs of between $290 million and $475 million, the administration projects that the plan would save the country $1.7 billion over a 20-year period.
Revisiting an old fight: The president swept into office in 2009 pledging that he would shutter the facility within a year. In 2010, the Democratic-controlled Congress approved the ban on transferring detainees to U.S. soil, stymying Obama's campaign promise to close the facility. And on Tuesday, his frustration that the prison remained open was palpable.
"Keeping this facility open is contrary to our values. It undermines our standing in the world. It is viewed as a stain on our broader record of upholding the highest standards of rule of law," Obama said from the Roosevelt Room in the White House. "As Americans, we pride ourselves on being a model of the rule of law. But 15 years after 9/11 — 15 years after the worst terrorist attack in American history — we're still having to defend the existence of a facility and a process where not a single verdict has been reached in those attacks."
But Obama's plan is sure to face Republican resistance, particularly amid the jockeying that comes with election season. Senate Majority Leader Mitch McConnell of Kentucky signaled a combative approach on Tuesday, tweeting that any transfer of detainees to U.S. soil would be "illegal."
House Speaker Paul Ryan echoed that language in his own statement, noting that transfers were "against the law" and vowing that they would "stay against the law."
Sen. Marco Rubio of Florida, a GOP presidential hopeful, slammed the plan at a Las Vegas campaign rally, saying it "made no sense" and pledging to block it.
Opponents of the plan are likely to argue that there's too much risk in transferring detainees out of the facility. According to a January 2015 Associated Press fact-check, 17% of 620 detainees released prior to July 2014 were confirmed to have engaged in terrorist activity since their release, while another 12% were under suspicion of recidivism. 
Senate Armed Services Committee chairman Sen. John McCain greeted the plan with skepticism, releasing a statement calling it "a vague menu of options, not a credible plan for closing Guantanamo, let alone a coherent policy to deal with future terrorist detainees."
"The Senate Armed Services Committee will closely scrutinize and hold hearings on the details of what the President submitted today," McCain said, "but we can say now with confidence that the president has missed a major chance to convince the Congress and the American people that he has a responsible plan to close the Guantanamo Bay detention facility."