Are the Oscars Rigged? In a Sense, Yes.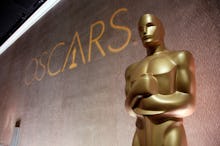 Danny Moloshok/AP
If we're speaking in a purely technical sense, no, the Oscars are not rigged. The winners are selected by members of the Academy of Motion Picture Arts and Science in a closed-door vote. But let's consider the non-literal definition of rigged.
"The word rigged is used to describe situations where unfair advantages are given to one side of a conflict," according to Urban Dictionary; it "describes the side of the a conflict that holds an unfair advantage."
Considering the racial skew of the 2016 Oscar nominee group, this definition seems pretty apt. One group in particular seems to have an unfair advantage of others. For the second year running, exclusively white actors were nominated for the year's highest honors, prompting people from various pockets of the film industry to speak out about the Academy's persistent race problem.
Read more: This Is What the Academy Can Actually Do to Prevent #OscarsSoWhite From Happening Again
Determining whether the Academy prioritizes a certain demographic requires looking at who gets to join the Academy in the first place, how they nominate Oscars picks and patterns within the larger film industry that dictate which movies get made. 
Let's get started:
In order to become a member, one must be "a film artist working in the production of theatrically released motion pictures," according to Oscars.org. The field of film artistry is, in this case, is subdivided into 17 fields; to join under any one, hopefuls must secure sponsorship from two standing members from that branch. Anyone nominated for an Academy Award is automatically ushered in as a member. 
All nominees are then reviewed by branch committees and then the Board of Governors. Those who are accepted by these juries of their peers are invited to join.
According to Mental Floss, the Academy currently has about 6,000 members; of those, about 5,500 vote. There are different eligibility requirements for different branches; actors, directors, and producers, for example, all have slightly different criteria to meet, but all nominees must be active in their field for a particular period of time, with a specific number of credits to their names. They must be making work that, regardless of category, "reflect[s] the high standards of the Academy." 
As for the Oscar nominees themselves — the best actors, films, scores of the year — these are put forth by a film's distributor or producer, one of whom fills out an Official Screen Credits (OSC) form and submits it by the appointed deadline. The proposed films must adhere to sharply delineated rules of eligibility.  
The films that fit the bill are compiled into a Reminder List which is sent out to members, who vote on Oscar nominees by category, Mental Floss reported: actors vote on acting categories; directors vote for best director; costume designers vote for best costume design, etc. The only category on which everyone votes is best picture.
Each person picks five nominees per category and writes them on their ballot in preferential order, then submits them for tabulation by the accountants at PricewaterhouseCoopers. The process for narrowing down nominees from these submissions is moderately complex; once each award category has its contenders, they're announced at a press conference at the Samuel Goldwyn Theatre in Los Angeles. 
Then it's back to the polls for Academy members, who receive their final ballots roughly one week later and get another two to complete and return them with their final selections. PwC does another secret count and the winners are chosen, to be announced at the annual Oscars ceremony.
The Academy Awards, then, are peer voted — trouble is, in Hollywood, one's peers are likely to be white, which is how we keep ending up with these very caucasian candidate fields for the industry's highest honors. 
The members are, as most people know by now, are overwhelmingly white and overwhelmingly male: In 2013, the Los Angeles Times reported that 93% of voters were white and 76% were men, this following the addition of 432 new members to the year's voting class. 
Because the Academy does not, as a rule, release information on its members, the Times had to investigate public records and was able to determine the race, sex and age of 387 of those inductees. They were about 69% male, 82% white (a 5% decrease from the previous year) and had a median age of 49 years old (one year younger than 2012's median). So, predominantly rich old white men. Which may explain the race discrepancy.
On Jan. 18, president Cheryl Boone-Isaacs issued a statement addressing this inclusion problem, following the resurgence of #OscarsSoWhite in response to 2016's all-white actor nominee pool. 
"Change is not coming as fast as we would like. We need to do more, and better and more quickly," she said. In a special meeting, the Academy's board voted on new procedures — to its voting, member recruitment and administrative processes — with an eye to doubling "the number of female and minority members by 2020," as the New York Times reported. 
Obviously, inclusion is a problem here. But membership is just one of that problem's facets. Recall that all-important criterion by which members and by extension, Oscar nominees are graded: against the "high standards of the Academy." Those standards are bound to be reflective of the organization's membership, and of industry biases. 
One point that many critics have highlighted is the industry's failure to fund projects by non-white individuals. Academy Award-winner Lupita Nyong'o called "for change in expanding the stories that are told." Straight Outta Compton producer Will Packer, in a lengthy Facebook post, wrote that "we need more content produced by, written by, directed by and featuring filmmakers and actors of color being given the green light." Representation within the industry is a culprit here.
A 2014 study by UCLA examined the demographics of the talent that is given the green light in Hollywood, focusing on agents. 70% of directors were represented by the three biggest agencies, as were 72% of actors. Of these directors, about 9% were minorities; of the actors, about 7% were minorities. 
As Time reported, the issue of representation — of getting one's foot in the door — is an important one if Hollywood's biggest agencies are mainly supporting white talent. The problem of backing is, then, a vicious cycle: If minority actors have a harder time getting agents that can get them parts, getting the OK on their projects, we're looking at a cinematic landscape that's wildly disproportionate. White actors and white filmmakers set those high Academy standards.
So in a way, the Oscars are rigged — in favor of white Hollywood. It's the same sentiment Viola Davis espoused in her 2015 Emmy acceptance speech: It's impossible to win an award for a role, for a show or a film or a project that doesn't exist. Thus the very particular appearance of the average Oscar winner over the past 35 years, as illustrated by this Venngage infographic.