How to Watch the Oscars 2016 Online: Viewing Info, Red Carpet Coverage and More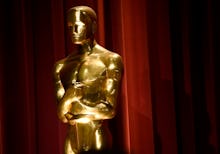 Chris Pizzello/AP
Hosted by actor Chris Rock, the 88th Academy Awards will take place on Sunday evening with the red carpet beginning at 7 p.m. Eastern and the ceremony at 8:30 p.m. Eastern. With a cable subscription, audiences in Chicago; Fresno, California; Houston; Los Angeles; New York City; Philadelphia; Raleigh-Durham, North Carolina; and San Francisco can watch the event unfold online at ABC.com or on ABC's mobile app. 
Starting at 7 p.m. Eastern on ABC.com, AOL, Comcast Xfinity and Yahoo, movie buffs can have the ultimate Oscars experience with The Oscars Backstage. This "second screen experience" allows viewers to choose from four channels — Director's Cut (which has the Thank You cam), arrivals, fashion and red carpet — that stream from more than 20 cameras set around the event, according to a press release. 
Read more: The Oscars' Decision to Diversify Membership Is Groundbreaking, Shocking and Necessary
E! will be broadcasting Academy Awards coverage as early as 1:30 p.m. Eastern, with an online livestream of the red carpet beginning at 5:55 p.m. Eastern.
The Revenant and Mad Max: Fury Road are expected to be big Oscar winners, since they lead the pack with the most nods. Fans will also want to tune in to see if Room's Brie Larson will be taking home her first Oscar.
Audiences of the Oscars will also get to see Common, Lady Gaga, Sam Smith and the Weeknd go onstage to perform or present.