Twitter Shines a "Light" on Something All of Kanye West's Best Songs Have in Common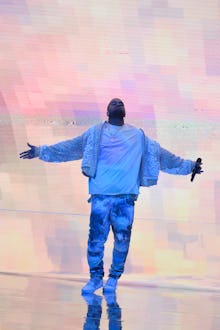 NBC/Getty Images
Kanye West is widely regarded as a musical genius. While his work as a whole has been critically hailed, Twitter users appear to have found the very simple sign of West's standout tracks. 
According to some Twitter users, one word tying all of Kanye's best music together is "light." Although this may sound crazy, there appears to be some merit to the theory. 
"Any song Kanye makes with the word 'light' in it is an automatic hit," the Twitter user Indicxt wrote online Monday morning. "Debate your father." 
Read more: Kanye West Misses Old Kanye In "I Love Kanye," Most Arrogant Song on 'The Life of Pablo'
"All Of The Lights," the fourth single from Yeezy's 2010 album My Beautiful Dark Twisted Fantasy, won Grammy awards for best rap song, best rap album and best rap/sung collaboration at the 54th Annual Grammy Awards in 2012. The track rose to number 18 on the Billboard Hot 100 chart, and has sold 4 million units according to the Recording Industry Association of America.
Kanye West's 2007 studio album Graduation produced several memorable tracks, but "Flashing Lights" was regarded as one of the best songs from album. "Flashing Lights" had international commercial success, peaking in the top 50 in four countries. The track was also ranked number 13 on Pitchfork's 100 best tracks of 2008 list.
"Street Lights," from West's 2008 album 808s & Heartbreak, may not have been the `most recognized song from the entire project, but was crucial to the album. "The song itself is a buried element of an entire album that makes the entire album as good as it is," Colin McGuire wrote in a PopMatters review. "And without "Street Lights," 808s & Heartbreak wouldn't be nearly as great an album as it turned out to be." The song has gained something of a cult following among fans. 
PorscheofSports, contends that the theory is pretty substantial. "'Ultra Light Beam', 'Street Lights', 'All Of The Lights', 'Flashing Lights'," he writes. "This tweet has incredible merit."
"Ultralight Beam," the opening track on The Life of Pablo, was well received by fans, and is considered one of the best songs on the entire project. "It's unlikely we'll get a song as singular as Kanye West's 'Ultralight Beam' anytime soon, so best to linger on it, feel out its grooves and curves, allow it to seep into the pores," Jon Caramanica wrote for the New York Times. 
West performed the track on Saturday Night Live, with collaborators Chance the Rapper, Kelly Price, Kirk Franklin, The Dream and El Debarge. After the SNL performance, Price became a trending topic on Twitter, a statement towards the popularity of the track. 
"Highlights" and "Low Lights" appear on the album as well, though "Low Lights" is more of an interlude. Young Thug hopped on the track for "Highlights," and the collaboration was well-received by fans.
Are there better Kanye songs that don't include the word "light"? Perhaps. 
However, every song Yeezy has with the word appears to be a hit with fans. Is there a pattern here? Maybe. Either way, Yeezus always finds a way to let his light shine.