The TSA Made This Sikh Comedian Remove His Turban "Because 'Safety'"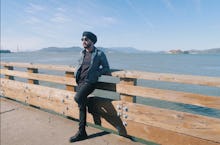 Comedian Jasmeet Singh knows when something's funny, and will be the first to poke fun at his own Sikh background. His YouTube videos, such as "Brown People Try White People Food" and "What If DJ Khaled Was Punjabi," have amassed almost 100 million views, and his channel has around 700,000 subscribers. 
But what happened to him at a San Francisco airport on Sunday was not so funny. 
Read more: The TSA Is Ditching the Word "Anomaly" for Trans People — Here's the New Term
Singh was traveling after a performance at UC Berkeley when Transportation Security Administration agents stopped him at a security checkpoint in a San Francisco. What happened next, he documented in a series of tweets:
And then it got worse:
Singh still made light of his situation noting that while he knows people who ditch their turbans when traveling for exactly this reason, he chooses to wear it because he looks "swanky," and offered this photo as evidence:
But Singh reminded his followers why TSA asking a Sikh man to remove his turban is not akin to their asking a traveler to remove his shoes. 
Indeed, the Sikh Coalition website explains the turban's significance in a way that those who follow any one faith (and hopefully, those who don't, too) should be able to grasp:
"The symbolisms of wearing a turban are many, from it being regarded as a symbol of sovereignty, dedication, self-respect, courage and piety, but the reason all practicing Sikhs wear the turban is just one — out of love and obedience to the wishes of the founders of their faith."
Are you really going to argue with that?