This Teacher Recreated Real Life Quidditch in the Best Way Possible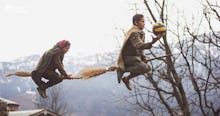 Anshoots Photography
Since 1997, when Harry Potter and the Sorcerer's Stone hit bookshelves, every kid who learned the story shared a collective fantasy: fly around on a broomstick. Chase the golden snitch. Be a champion Quidditch player. 
Anshu Agarwal, a teacher and photographer living in the Himalayan village of Garhwal, brought this vision to life. 
His super power? Photoshop.  
He photographed his students playing a real-life Quidditch game using broomsticks and volleyballs.
And then transformed the images into portraits of his students flying around on broomsticks.
"On seeing the pictures, the kids' eyes popped out," Agarwal told Metro UK. 
"I couldn't stop grinning as I knew I did manage to rope in some more magic in this already enchanted village."
Agarwal also uploaded the photos onto his professional Facebook page. 
When a commenter asked about the process behind making them, Agarwal wrote "magic is hard to be explained through muggle science."
As far as teachers go, Agarwal's awesome project may have just launched him into Dumbledore-territory.