Who Is the Youngest Person to Ever Win an Oscar?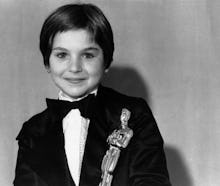 AP/File Photo
The Oscars' red carpet becomes a smorgasbord of Hollywood's top and newest talent. Last year's acclaimed drama Room earned itself several nominations, such as best picture and best actress for Brie Larson's role. Despite being a part of the cast, 9-year-old actor Jacob Tremblay, who plays Larson's character's son, was not nominated for an Oscar himself (in what some consider a snub).
Read more: Here Are the Multiple Actors of Color Who the Oscars Ignored in Their Nominations 
If Tremblay had actually been nominated and then also won, he would've been the youngest Oscar winner in history. However, that spot is still held by Tatum O'Neal, who won best supporting actress at age 10 in 1974 for her role in Paper Moon, which she starred in alongside her father Ryan O'Neal.
"I tried to do a normal life, but it was really chaotic in the 1970s," Tatum O'Neal told the Hollywood Reporter in 2014 about her experience after winning such a high honor at such a young age. "My father's life was in a chaotic place, too, and it was really hard for him to know how to direct me. I think he thought I'd just kind of 'figure it out' on my own."
In 2013, 9-year-old Quvenzhané Wallis was nominated for best actress for her role in Beasts of the Southern Wild. Ironically, she was up against the oldest ever nominee for best actress, Emmanuelle Riva from Amour. In the end, Jennifer Lawrence took home the Oscar for Silver Linings Playbook.
Since 1980, the youngest person ever nominated for an Academy Award was Justin Henry, who was only 8 years old and up for best supporting actor for his role in Kramer vs. Kramer.