These Alarming Photos Show What Major Cities Could Look Like If Sea Levels Keep Rising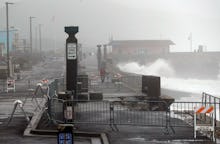 On Monday, climate scientists from around the world published a report with a fiery claim: 
Over the last century, the rise in sea level "was extremely likely faster than during any of the 27 previous centuries." 
CNN reported the news on Tuesday.
If left unchecked, the rise of sea levels could have a dramatic effect on some of the world's most populous cities.
In 2015, Climate Central, an independent climate science organization, worked with artist Nickolay Lamm to show the effect on coastal cities. 
Lamm's images show two different scenarios. 
One is an image of the cities "based on  2°C  (3.6°F) of warming from carbon pollution," which is "the target limit widely discussed today as the threshold to avoid catastrophic climate change," according to Climate Central.
The other shows how cities would look "following 4°C (7.2°F) of warming from carbon pollution in the coming decades."
Flooded streets, landmarks underwater, parks and sidewalks disappearing.
This is what cities could look like if we continue with "business as usual" regarding our carbon emissions, says Climate Central.
According to CNN, a 2013 U.N. report projected that sea levels will rise 1 to 3 feet — but more recent research indicates that the rise may be greater than previously predicted.
In addition to Lamm's images, Climate Central has created a tool showing the potential impact of different sea level changes on coastal communities all over the world, available on its website.