Here Are 7 of the Best Netflix Movies for Date Night to Watch While Cuddling With Bae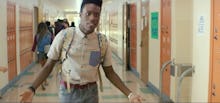 YouTube
Movies are a classic date night option, and "Netflix and chill" has become the modern-day romantic equivalent of pulling up to the drive-in — especially since movie ticket prices are at an all-time high. 
Since the movie choice ultimately sets the mood of a date, deciding on one has become an intimidating tightrope to balance on. Picking too racy a movie could create uncomfortable tension, but something too sad could ruin the mood or even bore one of you to sleep.
Read more: How to Access the 6 Best Hidden Genres on Netflix
Whether it's a first date or just a rainy Sunday night with your beloved, here are the best Netflix films for a successful date night.
1. 50 First Dates
Watch Adam Sandler and Drew Barrymore adorably fall in love against funny-but-strange biological odds in this sweet romantic comedy. It's impossible to not feel good after watching love grow against a Hawaiian backdrop. 
2. Dope
This 2015 movie is the perfect choice for music-lovers. Dope follows a geeky high-schooler who lives in a tough neighborhood in Los Angeles. As the title implies, the movie is almost as visually pleasing as its soundtrack is; for lack of a better word, it's dope. After all, rapper ASAP Rocky makes his acting debut in the film. 
3. Silver Linings Playbook
Silver Linings Playbook is not your conventional romantic comedy, as it's packed with some of the realer, less cheesy aspects of life and love. Plus, it was heavily Oscar-nominated and stars two of today's biggest celebrities in Hollywood, Bradley Cooper and Jennifer Lawrence.
4. Across the Universe
Sit your date down and watch the hits from the Beatles come to life in the musical Across the Universe. The 2007 movie is set during the Vietnam War in the 1960s and focuses on a well-off American student and a struggling British artist, which makes for a trippy-looking love story.
5. The Babadook
The Babadook is a horror movie that has the perfect formula of creepiness and scariness without being too gory or overtly sexist to ruin the mood. In the film, a single mother and her son are tormented by a storybook's evil monster.
6. Ferris Bueller's Day Off
The 1986 film Ferris Bueller's Day Off, which is about a clever teenager who feigns sick to hang out with his friends, is a solid choice for just about any date, since it has the comedic jokes, the heartfelt relationships and the charm of being an '80s classic. 
7. Hitch
Hitch is a classic rom-com choice that has just the right amount of cheese. In the film, Will Smith stars alongside Eva Mendes, and their chemistry keeps the film engaging.