World's Best Cities to Live in With the Highest Quality of Life — San Francisco Best in US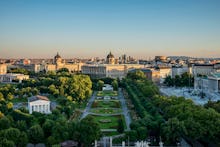 Christian Stemper/Vienna Tourist Board/AP
It may be time to pack our bags and brush up on German, according to the 2016 results of the annual Mercer Quality of Living Survey. According to the global quality of life rankings, Vienna is the best place to live, followed by Zurich and Auckland, New Zealand. By and large, cities in Western Europe earned high quality of living rankings, according to this year's survey results.
Mercer is a U.S.-based human resources consulting firm that operates globally. Each year, the firm conducts research to determine where in the world quality of life is highest, ranking 230 cities in the process, in order to help multinational corporations sort through international human resources affairs like compensation and placement, according to Mercer's release. 
Read more: The Best US Cities for Singles — Gay, Straight and Anyone In Between
Based on factors such as political, social, economic and natural environment, in addition to public services like medical care, educational institutions, recreation, housing and consumer goods, Germany is reportedly among the best places to live. Three German cities — Munich, Dusseldorf and Frankfurt — all ranked within Mercer's top ten cities where quality of life is highest.
Vancouver, Canada, also ranked within the top ten, as did Geneva; Copenhagen, Denmark; and Sydney.
Surprisingly or not, some of the most celebrated cities in the United States (in terms of literature and popular culture) didn't fare too well in Mercer's results. New York City, for example ranked No. 44, just behind the heartland's Chicago, Illinois. Meanwhile, neighboring Canada cleaned house, as Montreal, Ottawa and Toronto all ranked within the top 20. 
And several beloved Western European hubs ranked lower on the list than perhaps many would have expected. Milan, for instance, ranked No. 41, followed but Lisbon, Portugal at No. 42, Edinburgh, Scotland, at at No. 46 and Madrid at No. 52. Interestingly, Prague ranked No. 69, just ahead of Detroit.
"Heightened domestic and global security threats, population displacement resulting from violence, and social unrest in key business centers around the world are all elements adding to the complex challenge facing multinational companies when analyzing the safety and health of their expatriate workforces," said Ilya Bonic, a senior partner at Mercer, in a Tuesday press release.
"Multinational companies need accurate data and objective methods to determine the cost implications of deteriorating living standards and personal safety issues when compensating expatriates," Bonic continued in the release. 
Perhaps unsurprisingly considering recent years of political turmoil, Baghdad ranked dead last and also earned the lowest score for personal safety. Here's Mercer's full list of cities ranked according to their relative quality of life, and a video that breaks down the consulting firm's findings.