10 Best Apps for Productivity You Can Use on Your Smartphone so You Can Never Stop Working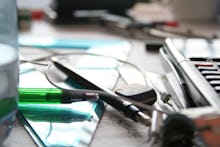 Shinealight/Wikimedia Commons
The rise of technology and how it's used as a tool to improve our everyday lives has its pros and cons. There are a slew of productivity apps available on the market but ironically, researching them all and trying to decide which ones to install and use proves to be very unproductive. And even if you do find the right one, you're reluctant to install them due to its exorbitant price. Here are 10 apps that will help you be more productive – many of which are free or worth the premiums, should the basic tier not be sufficient.
Read more: How Multiple Monitors Can Make You More Productive
Dropbox is one of more well-known cloud-based storage services on the market, and for good reason. CNET noted the application's speed and reliability, as well as its intuitive interface. The only caveat is the default amount of space; while the basic plan only yields 2 gigabytes of storage, there are myriad of ways to get additional space for free.
Asana is a workflow and task management application ideal for a large collaborative team. The application was praised by PCMag for speed and responsiveness, as well as its "thoughtful and attractive design" and "fluid interactive elements." 
Todoist is a task manager that is better fit as a personal to-do list. PCMag praised the application for its "clean and simple interface," "neat productivity charts" and offline functionality. The only caveat is that many of the application's best and important features are only available for a premium of $28.99 per year.
Sunrise is a deceptively simple calendar application that CNET praised for its "clean interface, easily identifiable icons and automatic syncing." The benefit of using Sunrise is that it centralizes all your calendars: Google, iCloud and even Facebook.
Slack is a messaging application that the New York Times's Farhad Manjoo has touted for being an email-killer. While the idea of chatrooms isn't innovative unto itself, Manjoo praises the application's "few unusual features that make it perfectly suited for work, including automatic archiving of all your interactions, a good search engine and the ability to work across just about every device you use."
For those who still want to use email, Boxer is an application that can help you organize all your inboxes. PCMag praised the application for its "customizable swiping gestures, integrated calendar view ... and speedy push notifications and setup."
Evernote is a note-taking and clip-collecting application praised by CNET for its "sleek and customizable organization tools" and for how streamlined it is to sync information between laptop and phone. 
Simplenote is similar to Evernote in terms of how streamlined its syncing is between devices, but like its name implies, it's much simpler. Simplenote is for those who want a no-frills application to jot down a quick note, who don't necessarily need to categorize the notes with any specific tag.
Pocket is a bookmarking and link-management application ideal for users who are piqued by a headline, but don't have the time to peruse an article more thoroughly until later. CNET praised the application for its "sleek design, offline caching, and unparalleled compatibility across platforms and with other third-party apps."
Because let's be serious; the likely reason you're being unproductive is because you keep visiting Facebook, Twitter, et al. Freedom attempts to make those websites "less distracting" by blocking them all for a duration of your choosing, giving you the illusion you have some control over your compulsions, and not deeper issues.